Collaborate, Merge or Share?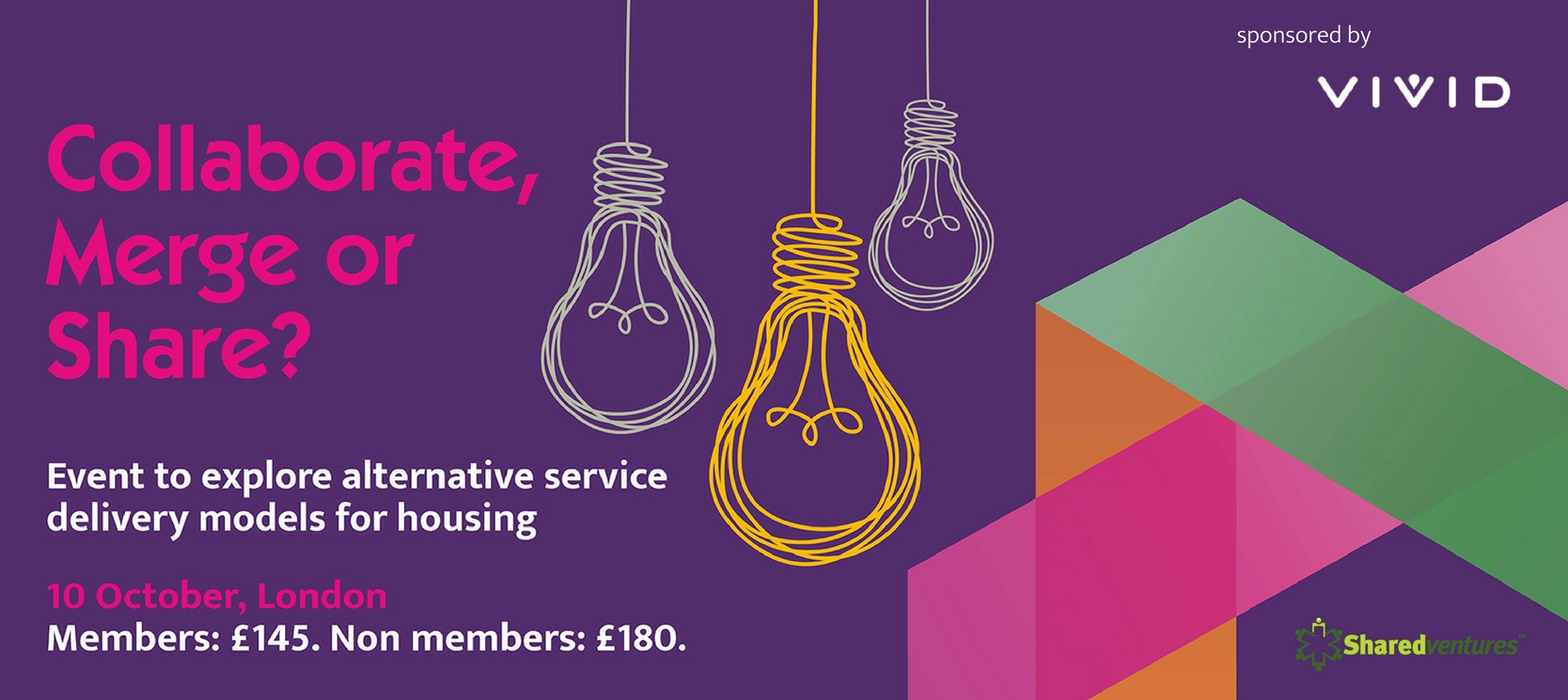 An event to explore alternative service delivery models for housing
This innovative event, the first of its kind we believe, demonstrates the range of ways that housing providers are devising to deliver quality services in challenging times. The event looks at housing services, repairs, support and complimentary services provided by other agencies.
How do organisations implement and make alternative approaches work? Hear from those who have succesfully established a new way of working. Find out if merged, shared, or collaborative services are a real possibility for you or gain inspiration to adapt your approach.
This event brought to you by Tpas and Shared Ventures will help you explore the benefits and efficiency potential of delivering services differently we will also generate discussion around how staff and resident volunteers can be involved in the process of examining the options and designing the new approach.
---
---
Hear from:
Peter Walters Chief Executive, Vivid talking about the merger between First Wessex and Sentinel
Jonathan Osborne, Wakefield District Housing presenting on their shared repairs service provided with Together HG
Harriet Bosnell, Director of Health, Care and Support, Curo exploring their collaborative work with the NHS to provide Wellbeing House (mental health respite accommodation) and Step-down Housing (a bridge between hospital and home).
West London Alliance explaining The Living Room, co-designed, co-located, estate based services including DWP, GPs, schools, probation, CAB and housing.
---
Learning Outcomes:
From those who have created an alternative service delivery model how services can be provided in innovative ways to achieve results;
Ideas and approaches being considered by fellow delgates via roundtable discussions, open debate and networking;
How staff and tenants can be fully engaged in the exploration and design of new approaches.
---
Why now?
From the 06 April 2017, the Homes and Communities Agency no longer has to approve the size and structure of housing associations and the way that they deliver services to tenants. Combined with this 'deregulation' the regulators Consumer Standards have been strengthened to ensure tenants are 'properly consulted' on any business structure changes so that their interests are safeguarded. Tpas are working in partnership with Shared Ventures Ltd to help demystify and showcase new approaches to service delivery and ensure tenant voices are heard in the design and delivery of alternative approaches.
---
Audience
This event is designed for staff from Directors, Heads of Service and Senior Managers to front line officers who may be asked to lead on or help facilitate new approaches. It will also be useful for Councillors, Board members and tenant volunteers involved in influencing and monitoring services.
---
Benefits of attending
Senior staff, councillors and board members
Hear from those who have implemented alternative approaches
why they chose that approach
how they set it up
what makes it work.
Use this information to explore and develop your own strategic approach
Departmental staff
Explore the practical considerations in developing and running alternative approaches
tips on working with your staff to develop the new approach
how to involve residents and communities in the process
practical considerations to ensure success
Use this information to ensure a smooth transition to your new approach for both the staff delivering it and the customers receiving the services.
Involved tenants and residents
Discover the range of innovative approaches organisations are taking and consider the benefits for your own organisation.
take your inspiration back to your scrutiny and service improvement work.
feel informed to take part in strategic discussions
work with staff to design the new services and ensure the smooth implementation of new approaches.
---
Speakers
Peter Walters is Chief Executive of VIVID Homes which was created in April 2017, followinga successful merger. VIVID owns and manages 30,000 homes and plans to build at least 1200 per annum in future, with a minimum of 20% being at social rented levels. Previously Peter was Chief Executive of First Wessex Housing which he joined in April 2007. He is also currently Chair of Sutton Housing Partnership, and a Board member of Housing Justice, and the National Federation of ALMOS. Having seen through a successful merger and the creation of VIVID, Peter will be stepping down in October 2017 but will very much continue to be involved in the sector. He writes for specialist housing publications, and comments extensively on Twitter. Follow him on @peterwalt7
---
Harriet Bosnell is the Director of Health Care and Support at Curo, where she leads innovative health and support services including the Wellbeing House, South Glos Community Connectors delivered in partnership with GP surgeries. Harriet has been at Curo for 10 years. Prior to that she was Head of Operations at Merlin Housing Association and Regional Manager at The Big Issue Foundation. For the last three years Harriet has been a Board Member at St John's hospital in Bath.
Curo is an ethical housing association with 12,000 homes across Bristol, Bath and the South West. They support over 3,000 people every week to stay living independently at home. The Curo Independent Living Service won the National Housing Federations Community Impact Award. Follow her on @HBosnellCuro.
More on other speakers coming soon.
---
Brought to you by Tpas in partnership with

---
Date
Tue 10th Oct 2017, 9:15am - 3:30pm
---
Venue Details
Resource for London
356 Holloway Road, London, Greater London, N7 6PA
---
Fees
| | | |
| --- | --- | --- |
| Members | £145.00 | £145.00 |
| Non-Members | £180.00 | £180.00 |
---
Event Contact
Name: Leanne Farrell
Email: leanne.farrell@tpas.org.uk
Phone: 0161 868 3552
---
Download Booking Form