National Scrutiny Week 2020
Tpas has launched a new national campaign to celebrate scrutiny in social housing.
---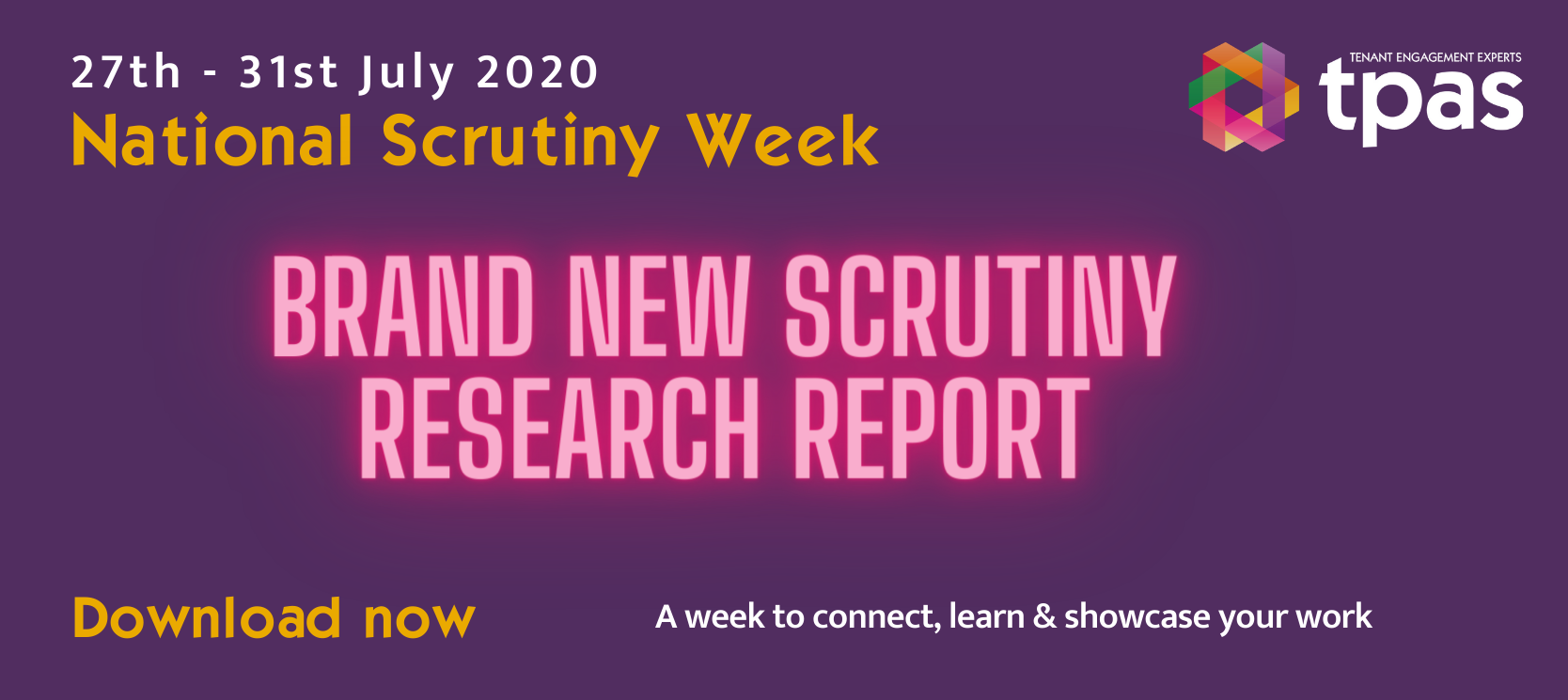 ---
---
---
Download the media kit and involvement pack
---
Tell us about your scrutiny work via video, text or audio message
---
The National Scrutiny Week is a chance for tenants and landlords to celebrate the impact of working in partnership to scrutinise services.
During the week, Tpas will encourage members and the wider sector to showcase scrutiny groups, panel members, chairs, projects and stories.
Highlights within the week include a tenant panel discussion with Clive Betts, MP for Sheffield South East and Chair of the MHCLG Select Committee, plus there will be live panels debates, Q&A's, webinars and the launch of a brand new research paper into local authority housing scrutiny.
Jenny Osbourne, Tpas chief executive said;
"It's a chance for us all to embed our learning, showing how things can be done differently and have open conversations about the future.
Tpas are behind the idea, but we don't own the week. We want the sector to use #ScrutinyWeek to celebrate and learn about scrutiny together.
There's no right way or wrong way of taking part. Maybe you could share some of your scrutiny successes that week? Perhaps you could book onto one of our events? Could you live stream your scrutiny meeting that week?"

During the week Tpas will be helping members and the wider sector to get together by hosting events, webinars and much more.
The week is about the housing sector embracing the change to connect, learn and showcase your work. Get in touch if you'd like to get involved too.
Join in and take part on Monday 27th July – Friday 31st July 2020
Are you a member?
Join Tpas today
---
Why choose Tpas?
Well established
We've been promoting, supporting and championing tenant involvement and empowerment across England for two and a half decades
Not for profit
Investing in Tpas means benefitting frim the latest tenant involvement policies and practices but also securing and supporting the future of the tenant involvement agenda
Accreditation
We offer the only independent evidence-based accreditation scheme that assesses resident involvement arrangements.
Expert advice
Our shared knowledge, expertise and experience with staff, tenants, landlord and contractors are the building blocks of this organisation.