Tpas Engaging Communities Conference 2019
Tpas Engaging Communities Conference
Monday 04 and Tuesday 05 March 2019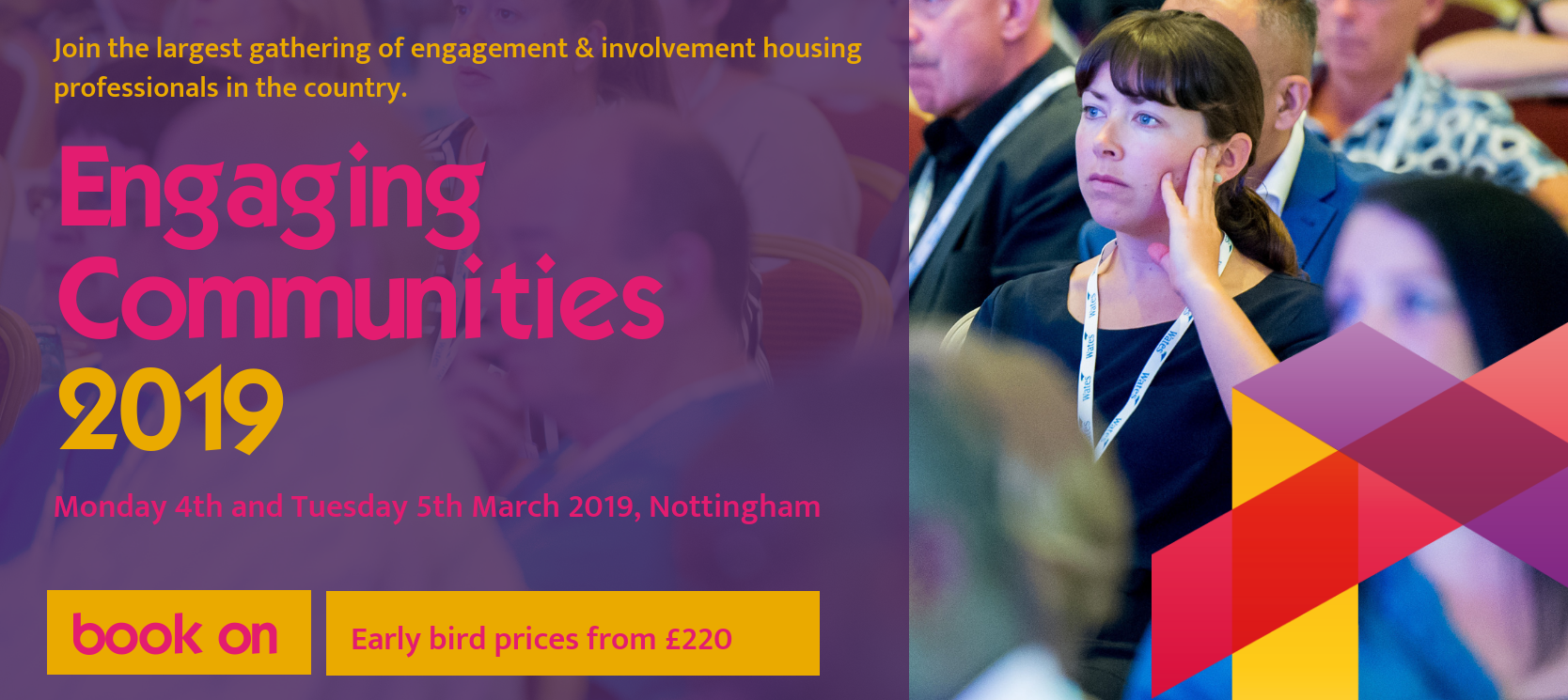 ---
Tenant engagement is high on the political and sector agenda right now and we aim to keep it there.
Following the Social Housing Green paper, 2019 looks set to be a significant year for housing with those having responsibility for resident engagement taking centre stage.
---
The Tpas Engaging Communities Conference is the largest gathering of engagement housing professionals in the country. We will bring you the latest housing policy briefings, a diverse range of interactive sessions, workshops and case studies to give you the tools to take on robust challenges with effective solutions.
The Green Paper promises a new deal for tenants. As it travels through parliament it will come with new legislation to tackle the stigma some tenants experience and a funding commitment build more social housing.
All housing organisations are set for big challenges and opportunities as they get to grips with these changes and develop transparent and respectful relationships with tenants for mutual benefit.
Housing professionals with a remit for engaging residents are crucial for implementing this changes within their organisation.
The Engaging Communities conference will once again be brimming full of practical and useful information to help you better understand the requirements from you and your team to ensure a strong tenant voice within all your activities including your governance, your service reviews, procurement processes, complaints, scrutiny and building safety.
This conference offers exceptional networking opportunities, high-level learning and skills development.
So get your hands on the Earlybird rate before it ends on the 14th January 2019
---
What you said about ECC18:
"The points other delegates made in workshops were very useful, helping me find the vocabulary to explain my opinions to management about my work and our direction – speeches about the industry at large are motivating to me"
"Networking, new ideas and future challenges – proactively working together to lobby nationally and make a difference"
"Networking and looking at new ideas for services. Having confidence that we are doing a good job and being innovative! Ideas, links, resources, people – networking"
---
---
Do you have any feedback on last year? Do you have any ideas for 2019? Would you like to pitch your organisation for a workshop? We would love to hear from you! Complete our short survey here: ECC19 Survey

*All completed surveys will be entered into a prize draw to win £50 off a booked Engaging Communities Conference place.
---
Understanding the ticket types:
All 2 Day Rate (04 and 05 March) ticket types include attendance at both days of the conference.
All meals, evening entertainment and overnight accomodation on-site at the Nottingham Belfry are included.
Day 2 (05 March only) tickets are for attendance at the conference on Day 2 (Tuesday) only.
Refreshments and lunch are provided.
Both ticket types are available to Tpas Members and Non-Members.
Tickets and pricing
Earlybird* 2 Day Rate (04 and 05 March) Tpas Member: £395 + VAT
Earlybird* 2 Day Rate (04 and 05 March) Tpas Non-Member: £525 + VAT
Earlybird* Day Rate (05 March only) Tpas Member: £220 + VAT
Earlybird* Day Rate (05 March only) Tpas Non-Member: £295 + VAT
*Earlybird Rates end on Monday 14 January 2019
Rates from 14 January onwards:
2 Day Rate (04 and 05 March) Tpas Member: £435 + VAT
2 Day Rate (04 and 05 March) Tpas Non-Member: £580 + VAT
Day Rate (05 March only) Tpas Member: £270 + VAT
Day Rate (05 March only) Tpas Non-Member: £360 + VAT
---
Date
Mon 4th Mar 2019, 2:00pm - Tue 5th Mar 2019, 3:30pm
---
Venue Details
The Nottingham Belfry
Mellors Way, Nottingham, Nottinghamshire, NG8 6PY
---
Tickets
Earlybird: 2 Day Rate (04 and 05 March)
Membership
Staff
Tenant
Members
£395.00
N/A
Non-Members
£525.00
N/A
Earlybird: Day Rate (05 March only)
Membership
Staff
Tenant
Members
£220.00
N/A
Non-Members
£295.00
N/A
---
Event Contact
Name: Leanne Farrell
Email: leanne.farrell@tpas.org.uk
Phone: 0161 868 3500
---
Book Tickets