Tpas Engaging Communities Conference 2019
Join the largest gathering of engagement & involvement housing professionals in the country.
---
Tpas Engaging Communities Conference
Monday 04 and Tuesday 05 March 2019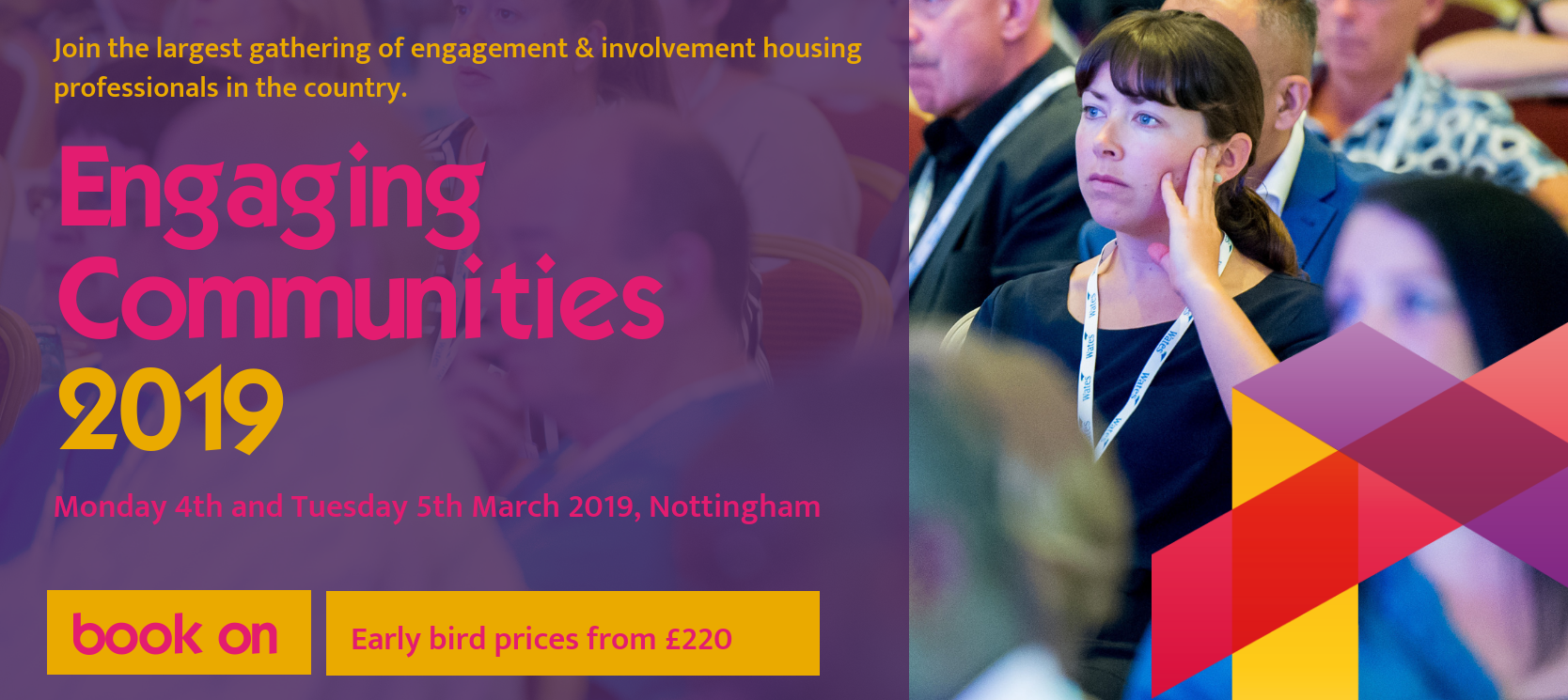 ---
Tenant engagement is high on the political and sector agenda right now and we aim to keep it there.
Following the Social Housing Green paper, 2019 looks set to be a significant year for housing with those having responsibility for resident engagement taking centre stage.
---
The Tpas Engaging Communities Conference is the largest gathering of engagement housing professionals in the country. We will bring you the latest housing policy briefings, a diverse range of interactive sessions, workshops and case studies to give you the tools to take on robust challenges with effective solutions.
The Green Paper promises a new deal for tenants. As it travels through parliament it will come with new legislation to tackle the stigma some tenants experience and a funding commitment build more social housing.
All housing organisations are set for big challenges and opportunities as they get to grips with these changes and develop transparent and respectful relationships with tenants for mutual benefit.
Housing professionals with a remit for engaging residents are crucial for implementing this changes within their organisation.
The Engaging Communities conference will once again be brimming full of practical and useful information to help you better understand the requirements from you and your team to ensure a strong tenant voice within all your activities including your governance, your service reviews, procurement processes, complaints, scrutiny and building safety.
This conference offers exceptional networking opportunities, high-level learning and skills development.
So get your hands on the Earlybird rate before it ends on the 14th January 2019
---
Key note speaker announcement: Aileen Evans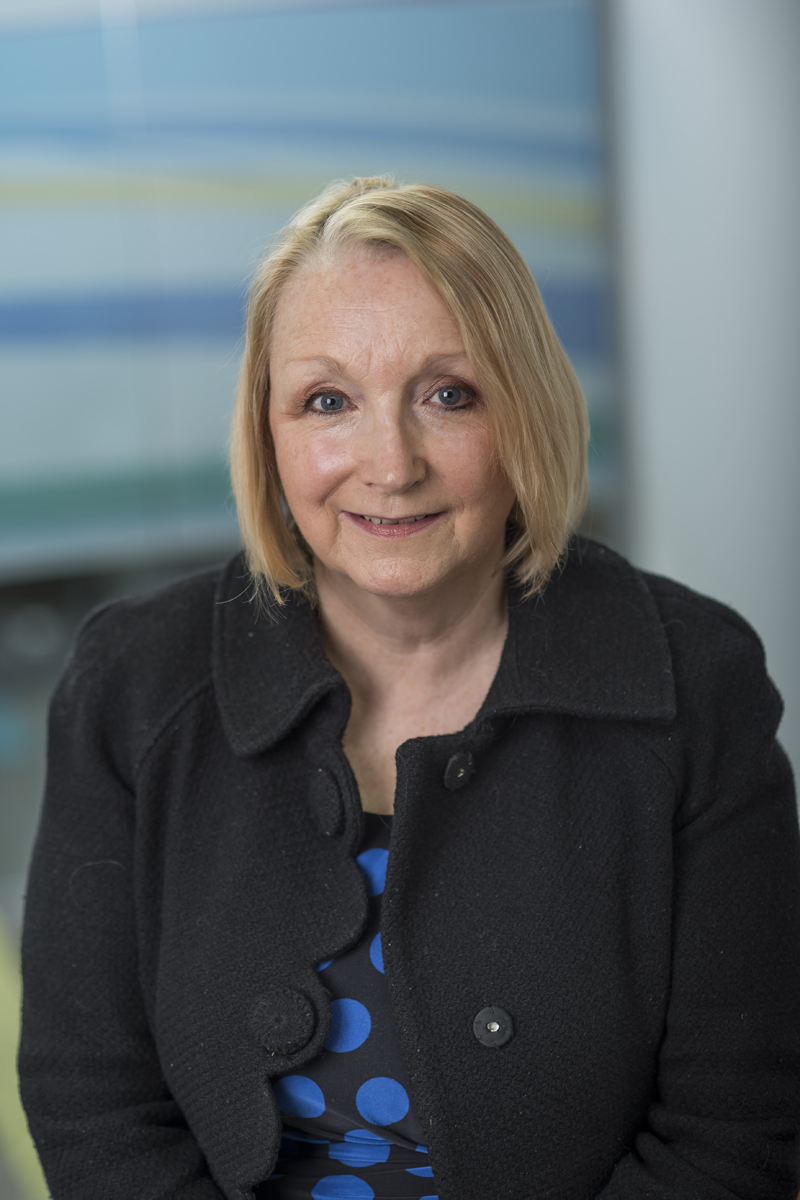 Aileen is the Chief Executive of Grand Union Housing Group and the Vice President of the Chartered Institute of Housing.

Hear about the journey of Grand Union and their focus on resident and community engagement, particularly their award winning approach to youth involvement.
Aileen will bring her extensive mentoring expertise to share with you her insights, tips and strategies for succeeding in your roles within your own organisations. Let's focus on the behaviours, skills and attitudes we will all need to deploy more than ever to ensure we are enabling residents and community voices to be heard at the highest level
---
Workshop announcements
New for 2019! The Solution Studio
The eagerly anticipated Solution Studio! We know you have problems to solve. We know you are facing many challenges in your roles of delivering effective engagement. We know as housing professionals, you have the knowledge and insight to solve these issues.
Guided by our engagement experts, the Solution Studio gives you the opportunity to share your engagement issues and explore practical solutions, share good practice and devise new and innovative methods of engagement.
Let's share, let's solve.
Digi and tech in engagement
Flagship Homes, a new Tpas member and winners of the 'Best Customer Experience' award at the National Public Sector Paperless Awards, is an organisation that has impressed the sector with their involved tenant communication methods and approach to customer insight. Hear how they are leading the way in bringing new methods of engagement in the changing dynamic of the digital world.
Challenging the stereotypes
One of the priorities of the Housing Green Paper is 'Tackling stigma and celebrating thriving communities, challenging the stereotypes that exist about residents and their communities'; with the government proposing that we work 'to ensure all staff deliver a good quality of service". It is easy to blame the media and the Government for the stigma attached to social housing and those who live in it; but is this true? This workshop will ask you to consider your organisation's culture and attitude towards customers. This workshop will; identify how social landlords and their staff contribute to the negative stereotype of the social housing customer, identify the cultural and behavioural attitudes that need to change within the sector and consider the role of engagement in tackling the stereotypes.
Scrutiny – Learning from outside the sector
Tpas are delighted to partner with the Centre for Public Scrutiny to offer this innovative and thought provoking workshop. Drawing on experiences and good practice in Health, Education, Local Government and the private sector, it explores how these sectors can help Housing develop and improve its own approach to scrutiny. This workshop will cover the key principles that underpin all scrutiny, how other sectors approach scrutiny and learn practical scrutiny tools and techniques.
Involving Residents in Complaints
With the effective resolution of complaints featuring significantly in the Green paper, Tpas is pleased to announce that it is teaming up with the Housing Ombudsman to deliver this timely and practical masterclass. It will focus on how landlords can successfully engage with residents to deliver better complaint handling and outcomes. Not only will this workshop draw on the specialist skills and knowledge of the Ombudsman, but will also include the experiences of One Vision Housing and the implementation of their successful Customer Complaints Champions.
Making consultation count
Hear from Tpas about our five cornerstone principles for ensuring effective consultation and how to successfully support your consultation processes. Learn about the ways you can provide assurances to your stakeholders that you are engaging in meaningful and focussed consultation through accountability, inclusiveness, transparency, commitment and responsiveness.
Hot Trends in Engagement
With engagement hot on the sector agenda, let Tpas guide you through some of the latest trends in engagement. Find out what's new, what works and what doesn't and explore ways you can ramp up engagement in your organisations. Look at the new ways of delivering meaningful engagement together with the shared motto - coming together is the beginning, keeping together is a process, working together is a success.
---
LEARNING LOUNGES
Online Senate – playing fast with resident feedback
Got a burning question you want to ask residents? What to find out what they think? How could you get this insight and how quickly? Hear from Metropolitan Thames Valley in this fun and interactive session about the set-up of their resident Online Senate, an innovative approach to capturing resident feedback to enhance the development and improvement of services.
---
What you said about ECC18:
"The points other delegates made in workshops were very useful, helping me find the vocabulary to explain my opinions to management about my work and our direction – speeches about the industry at large are motivating to me"
"Networking, new ideas and future challenges – proactively working together to lobby nationally and make a difference"
"Networking and looking at new ideas for services. Having confidence that we are doing a good job and being innovative! Ideas, links, resources, people – networking"
---
Understanding the ticket types:
All 2 Day Rate (04 and 05 March) ticket types include attendance at both days of the conference.
All meals, evening entertainment and overnight accomodation on-site at the Nottingham Belfry are included.
Day 2 (05 March only) tickets are for attendance at the conference on Day 2 (Tuesday) only.
Refreshments and lunch are provided.
Both ticket types are available to Tpas Members and Non-Members.
Tickets and pricing
Rates from 14 January onwards:
2 Day Rate (04 and 05 March) Tpas Member: £435 + VAT
2 Day Rate (04 and 05 March) Tpas Non-Member: £580 + VAT
Day Rate (05 March only) Tpas Member: £270 + VAT
Day Rate (05 March only) Tpas Non-Member: £360 + VAT
Note as of 15 January 2019, there are limited 2 day conference places with accomodation available.
---
Date
Mon 4th Mar 2019, 2:00pm - Tue 5th Mar 2019, 3:30pm
---
Venue Details
The Nottingham Belfry
Mellors Way, Nottingham, Nottinghamshire, NG8 6PY
---
Tickets
Earlybird: 2 Day Rate (04 and 05 March)
Membership
Staff
Tenant
Members
£395.00
N/A
Non-Members
£525.00
N/A
Earlybird: Day Rate (05 March only)
Membership
Staff
Tenant
Members
£220.00
N/A
Non-Members
£295.00
N/A
2 Day Rate (04 and 05 March)
Membership
Staff
Tenant
Members
£435.00
N/A
Non-Members
£580.00
N/A
Day Rate (05 March only)
Membership
Staff
Tenant
Members
£270.00
N/A
Non-Members
£360.00
N/A
---
Event Contact
Name: Leanne Farrell
Email: leanne.farrell@tpas.org.uk
Phone: 0161 868 3500
---
Book Tickets