Engaging Communities Conference 2020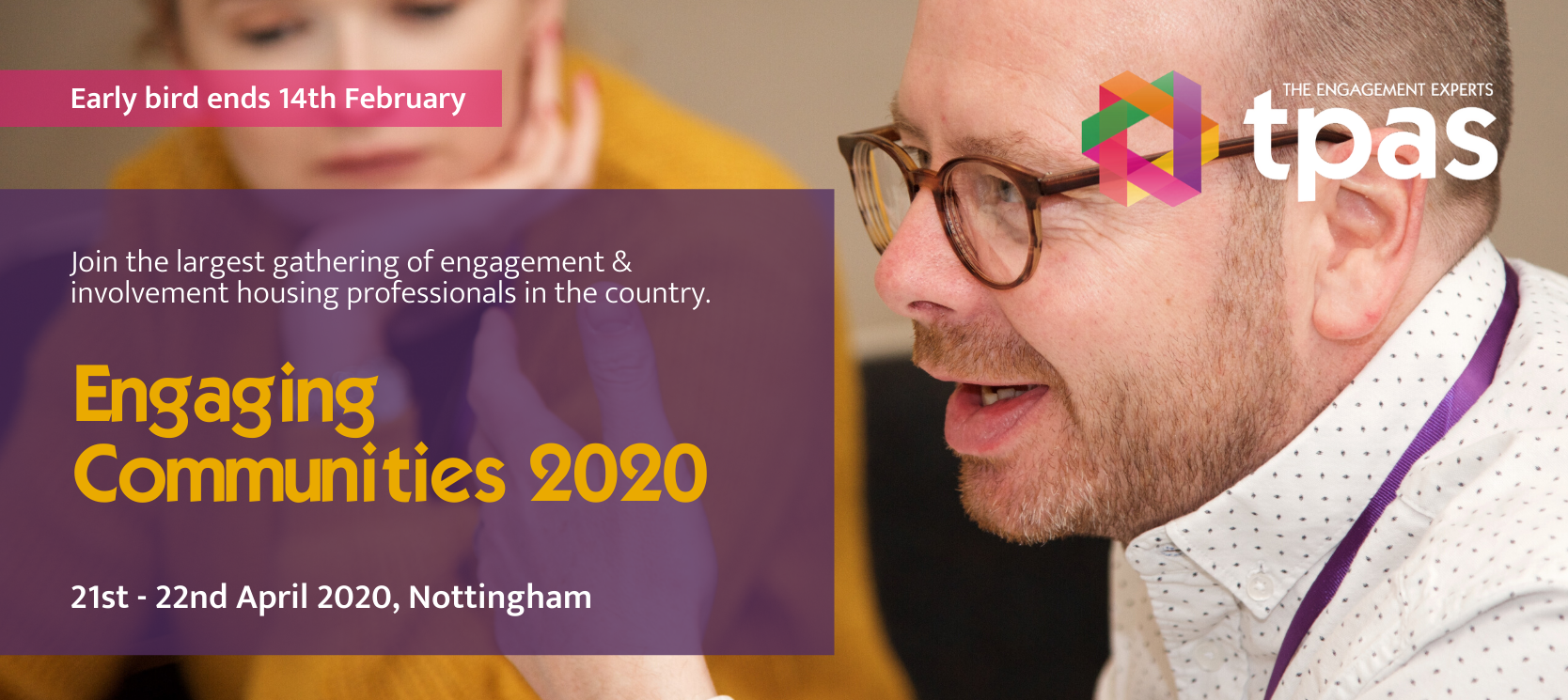 ---
The Tpas Engaging Communities Conference is the largest gathering of engagement housing professionals in the country; we bring you the latest housing policy briefings, a diverse range of interactive sessions, workshops and case studies looking at everything engagement.
---
Important news - a message from Jenny:
I have some urgent and important news about the Tpas Engaging Communities Conference you have booked on to for the 09/10th March 2020.
We have this week received a call from the venue to say that they have made a huge error with our booking – due to the installation and merging of a new booking system at their end – and have doubled booked Tpas with another company. The other company unfortunately takes priority in this situation as they had booked first.
I can honestly say I have never had this happen to me before in all my years at Tpas. This is absolutely not our doing - we are mortified, upset and disappointed about the whole circumstance and especially that we now are going to cause you disappointment and inconvenience too.
This now means that:
1) We are going to have to cancel our event for the 09/10th March
2) We have instead, sourced a new date with the Crown Plaza Nottingham, but due to diary commitments and Easter, the first date we can get that works is Tuesday 21st and Wednesday 22nd April
We are working hard now to finalise the programme and the extra time it's now giving us is an opportunity to source even more workshops and key speakers for you. We promise you an excellent programme, in this new and exciting venue. And of course, us, TeamTpas… more than ever are wanting to deliver to you an event packed with networking, learning, challenge, and fun.
Our hope is you will support us and continue to join us at Engaging Communities, albeit on a different date. If you are able to make it, we can move your booking immediately to that new date and we will honour all prices. If you are unable make the new date, or send another member of your organisation, we will of course, not charge you for your place and cancel your booking.
Please let leanne.farrell@tpas.org.uk know as soon as you can if you want to move your booking to the new April dates. We will hold your place for two weeks whilst you make your decision.
We are extremely sorry for the disruption and inconvenience caused by this and hope that you are still able to join us for the new date.
Happy to give you a call if you want to chat through any of this.
Best wishes,
Jenny Osbourne
Tpas Chief Executive
---
In recent years, the conference has taken a different direction - there's been the need for more energy, freedom to think, to ask questions, talk, network and share ideas.
To accommodate that energy, we are moving the conference to a vibrant new venue this year – the Crowne Plaza Nottingham – where we believe the 2020 conference will be bigger and better than we have ever had before.
We are in a critical time for all those who believe in good, effective tenant and community engagement and we all need to make sure that we are fit for the challenge and ready to drive essential improvements in our organisations. Because we all know that listening to and working with tenants and communities works. It works in achieving effective services, building resilient communities and creating responsive organisations.
The Tpas Engaging Communities Conference 2020 is one to look forward to, so get the date in your diary now for 2 days of unparalleled networking opportunities, high-level learning and skills development.
---
Tickets available now! Earlybird prices from £399 + VAT
---
What you said about ECC19:
"The benefits of networking can never be underestimated. I left the conference with more questions than answers, questions that both myself and the organisation I work for have to answer"
"Networking opportunities, swapping best practice, new ideas, able to use other professionals as a sounding board on these big challenging opportunities and issues"
"Networking and innovative practice - helping to professionalise the areas we work in, and this conference brings together that thinking"
---
Understanding the ticket types:
Member/Non Member: 2 Day Rate
These ticket types include attendance at both days of the conference (21 and 22 April).
All meals, evening entertainment and overnight accommodation on-site at the Crowne Plaza Nottingham are included.
Member/Non Member: Day 2 (22 April only)
These tickets are for attendance at the conference on Day 2 (Wednesday 22 April) only.
Refreshments and lunch are provided.
---
Tickets and pricing:
Earlybird* Member 2 Day: £399 + VAT
Earlybird* Non-Member 2 Day: £529 + VAT
Earlybird* Member Day Delegate (22 April only): £229 + VAT
Earlybird* Non Member Day Delegate (22 April only): £299 + VAT
Rates after early bird:
Member 2 Day: £439 + VAT
Non-Member 2 Day: £585 + VAT
Member Day Delegate (22 April only): £275 + VAT
Non Member Day Delegate (22 April only): £365 + VAT
---
Programme coming soon
---
Date
Tue 21st Apr 2020, 1:00pm - Wed 22nd Apr 2020, 4:00pm
---
Venue Details
Crowne Plaza Nottingham
Wollaton Street, Nottingham, Nottinghamshire, NG1 5RH
---
Tickets
Earlybird: 2 Day
Membership
Staff
Tenant
Members
£399.00
N/A
Non-Members
£529.00
N/A
Earlybird: Day Delegate (22 April only)
Membership
Staff
Tenant
Members
£229.00
N/A
Non-Members
£299.00
N/A
---
Event Contact
Name: Leanne Farrell
Email: leanne.farrell@tpas.org.uk
Phone: 0161 868 3552
---
Book Tickets