Mind The Gap
Wednesday 25th of October 2023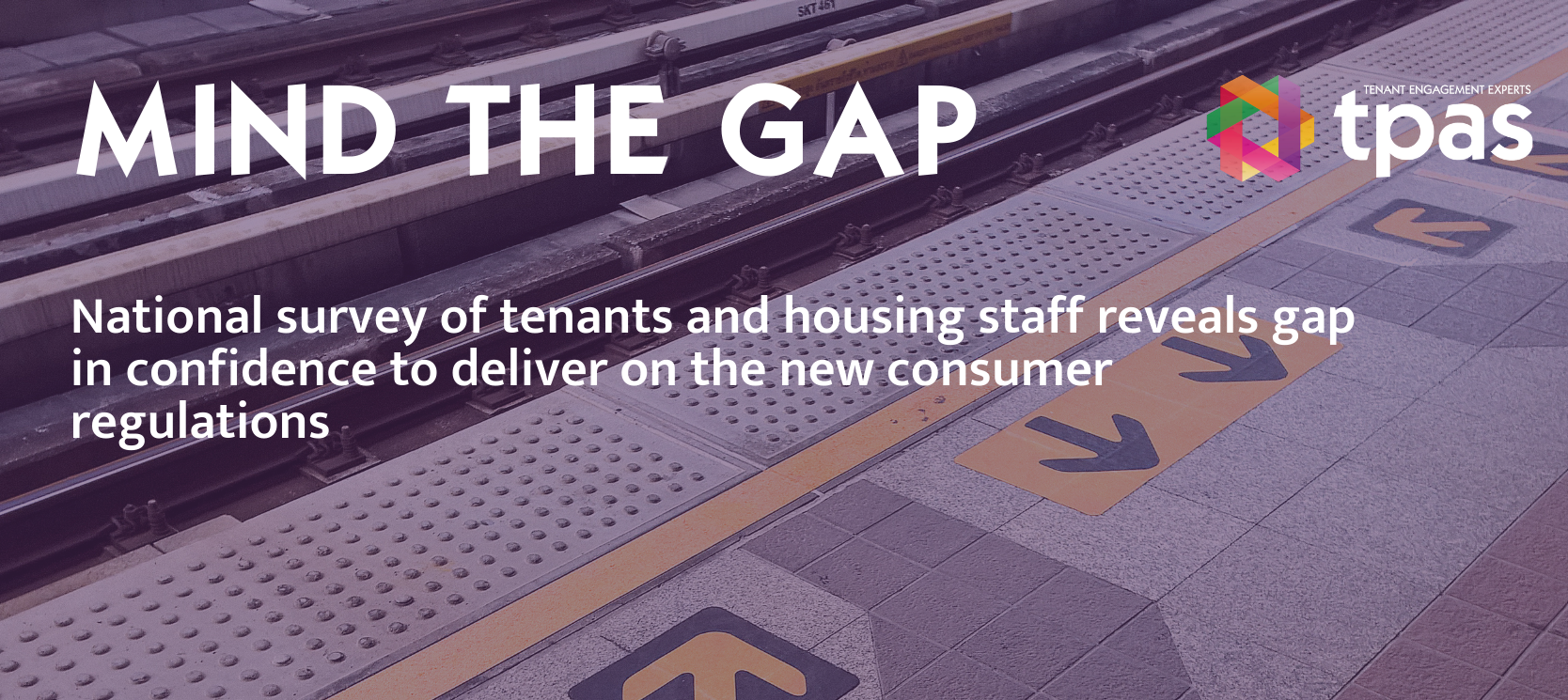 As more intensive consumer regulation is on its way Tpas nationwide survey reveals a confidence gap in how housing chief executives, engagement staff and involved tenants feel about delivering the change needed 'on the ground'.
---
Significant changes to the consumer regulatory requirements will put clear expectations on social housing landlords to ensure that tenants are in an informed and supported position to be part of strategic decisions for their homes and communities.
In response to these new pressures on landlords to involve tenants and tenants feeling informed we at Tpas prepared a national straw poll to see how 'ready' the sector felt for the changes ahead. We wanted to understand confidence across our membership and the wider sector to help us to put the right resources in place to focus attention where it's needed in the future. Our aim is to help prepare landlords and tenants to work together on topics such as Tenant Satisfaction Measures, Building Safety, and the carbon-neutral agenda.
---
Our approach
Our approach We developed the Engagement Poll on our email platform so that we can handle collating data from our five audiences. These were chief executive members and non-members, engagement staff members and non-members and tenant members.
In total the poll was emailed to 3,732people, split across these five audiences. The poll closed on the 2nd March 2022 and we received a total of 716 responses, demonstrating an approximate 19% response rate.
---
The results
As more intensive consumer regulation is on its way and there's an emerging confidence gap in the sector on how prepared chief executives, staff and tenants feel.
The results reveal that chief executives were almost twice as likely to score themselves confident compared to engagement staff.
49% of chief executives scored themselves confidently, compared to just 27% of engagement staff. Involved tenants were more confident than engagement staff too, with 40% of them scoring themselves confident with being ready for the changes.
INSERT GRAPHIC HERE
At the other end of the confidence scale, 20% of all housing chief executives and engagement staff felt poorly prepared to support tenants to make strategic decisions. In fact, they rated their readiness at 1 out of 10. And for people that aren't yet Tpas members, it was over 25%. Only 6% of housing staff and chief executives feel they and their tenants are fully prepared for the big decisions that will need to be made following regulatory changes.
INSERT GRAPHICS HERE
---
What now?
To help our members 'close the gap' in confidence we have produced a handy guide to the pressing priorities that need to be tackled. The guide offers a clear road map on all the expectations from the new consumer regulations. It is designed to be adopted by the Chief Executive, the Scrutiny Panel, the Engagement officer and anyone else across the organisation with an interest or a role in raising the standard of engagement.
---
Download the guide
---
Are you a member?
Join Tpas today
Search news and views