What the heck is a hackathon?
Monday 22nd of July 2019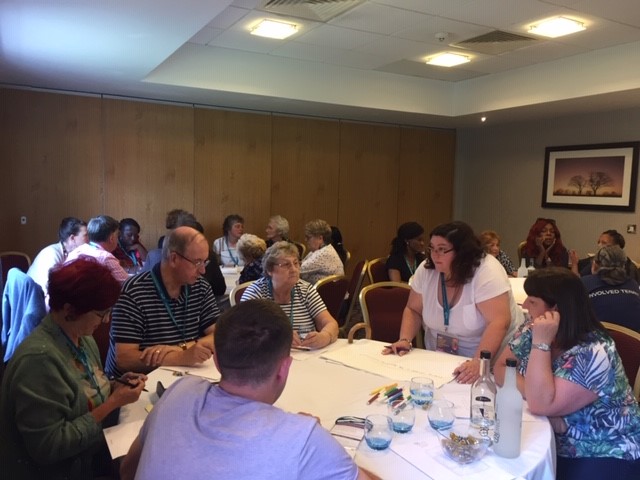 Tpas consultancy manager Gill Mclaren applied the principles of a Hackathon to running a workshop at the Tpas National Tenant Conference. Here Gill explains how she got on.
---
Everyone who came to my workshop at the Tpas annual conference came in with the same question 'what the heck is a hackathon?' Most people came out of curiosity wanting to know more which was a great place to start. Hackathons have been used for years in the computer world to creatively problem solve out of the box 'coding' solutions and I wanted to see how successful the principles would be applied to solving issues when working with and in communities The session started with a 1 minute creative thinking exercise to get the creative mind in gear people were amazed what they could produce when they had to focus the mind and produce something so quickly. We then moved onto the hackathon – people got into groups and listed out the key issues they had with working in and with communities and prioritised the top 3 in 15 mins each table then shared their number 1 priority.
People where then given the option to be a butterfly or a bee. Butterflies could go from table to table offereing creative solutions to the issue identified or bees who had already found their hive stayed with their team The next 15 minutes then was spent on creative problem solving around the issue identified , each group then reported back to the whole room and everyone could then contribute with any other solutions. We ended up with some fantastic solutions and people were amazed that in such a short time issues that they had been barriers had suddenly been solved or solutions found.
Hackathons allow people the time and space to think creatively and around the issue , they allow a combined solution making space using different peoples experiences and skills. They promote a problem solving time in a fun and easy manner that ensures everyone plays a vital role as its time limited They also allow people to work together as a team and develop relationships that promote creative solutions. All issues and solutions are valid and considered. Each team then shares their solutions and other team members can add theirs – which creates a real buzz and owning of the process
Hackathons can be as long or short as you want them to be – they can have an overall theme that teams work on or individual jointly agreed themes – they promote team working and co-design; they can lead to each team pitching their ideas and the best one being taken forward and developed further . Each project is called a 'Hack'
I was truly impressed with the outcomes from both workshops , participants felt that they had been able to really focus on the issue in hand and by working together it led to some amazing 'out of the box' solutions to issues that I had never heard been considered before.
Ultimately this approach is a different way to come up with solutions, creatively inspire other members of your team. People enjoy themselves, and want to do more. It can lead to new solutions and attract different parts of communities that may not have wanted to before.
Sometimes we just need the time and space and to share together creatively.
Think of a Hackathon as a pit stop on a journey to share ideas, knowledge and expertise to creatively problem solve.
---

If you would like Tpas to facilitate a 'hackathon' style event for your organisation then please contact Gill Mclaren

---
Are you a member?
Join Tpas today
Search news and views