Training In-House

Want us to design and deliver a course for staff and/or volunteers? Tpas in house training is tailored with you to deliver the learning outcomes you want at a venue of your choice.
We deliver training covering an extensive range of courses for staff, tenants and board members and are happy to create new bespoke courses just for you. We work with a huge range of organisations and consistently receive fantastic feedback.
Organisations and their tenants come back year after year knowing that we meet their specific requirements and deliver quality courses, that really make a difference. We do much more than purely tenant engagement training and have an extensive network of experienced associate trainers covering all aspects of housing and community involvement.
We have compiled a list of some of the wide range of topics we provide training on for staff, board members, councillors and tenant/resident volunteers around the country.
Take a look to inspire you and just ask if you want something that isn't listed.
If you don't see what you are looking for on the list or website just get in touch, we will devise a programme that meets your brief. We can also help with conference workshops, including facilitation and deliver anything from a short briefing to an accredited training programme. We can deliver one day, half day, evening and weekend sessions.
---
Download the A - Z list of courses
---
How In-House Training works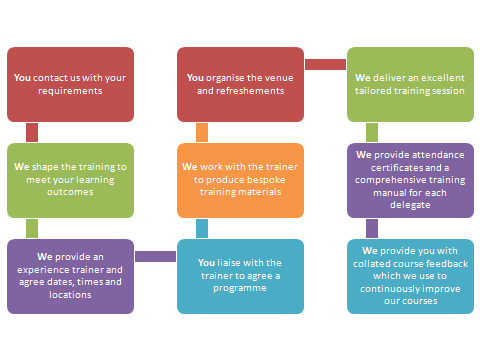 For further information or to discuss your training needs please contact the Tpas Training Team on 0161 868 3520 or training@tpas.org.uk.
What people say
'A big thank you again for the excellent session that you facilitated yesterday and an equally big thank you also to your Life Swap colleagues who brought the idea to life and contributed so helpfully to the afternoon session. I appreciate that we paid for the session but I think you all brought a passion, and desire to share, that goes far beyond a simple monetary transaction. It was also very enjoyable and hopefully will give us the platform we need to develop an embryonic initiative for KNH.' Bringing Diversity Home - Introduction to Life Swap for Kirklees Neighbourhood Housing delivered in patnership with Home Group
'Busts the myths on negatives of using social media, excellent case studies and the right balance between talk and engagement' Making the Most of Social Media for tenants and staff Hull City Council
'Amazing course, very informative and a great deal of fun' Embracing Your Community for residents Riverside
'Very good course for tenants and officers to enhance their knowledge' 'Very interactive, lots of best practice sharing' Show the Value of Your Tenant Involvement for tenants, residents and staff East Devon DC
---
What people say
'A big thank you again for the excellent session that you facilitated yesterday and an equally big thank you also to your Life Swap colleagues who brought the idea to life and contributed so helpfully to the afternoon session. I appreciate that we paid for the session but I think you all brought a passion, and desire to share, that goes far beyond a simple monetary transaction. It was also very enjoyable and hopefully will give us the platform we need to develop an embryonic initiative for KNH.' Bringing Diversity Home - Introduction to Life Swap for Kirklees Neighbourhood Housing delivered in patnership with Home Group
'Busts the myths on negatives of using social media, excellent case studies and the right balance between talk and engagement' Making the Most of Social Media for tenants and staff Hull City Council
'Amazing course, very informative and a great deal of fun' Embracing Your Community for residents Riverside
'Very good course for tenants and officers to enhance their knowledge' 'Very interactive, lots of best practice sharing' Show the Value of Your Tenant Involvement for tenants, residents and staff East Devon DC