Join the Tpas Twitter Chat - 19.09.2016
Monday 22nd of August 2016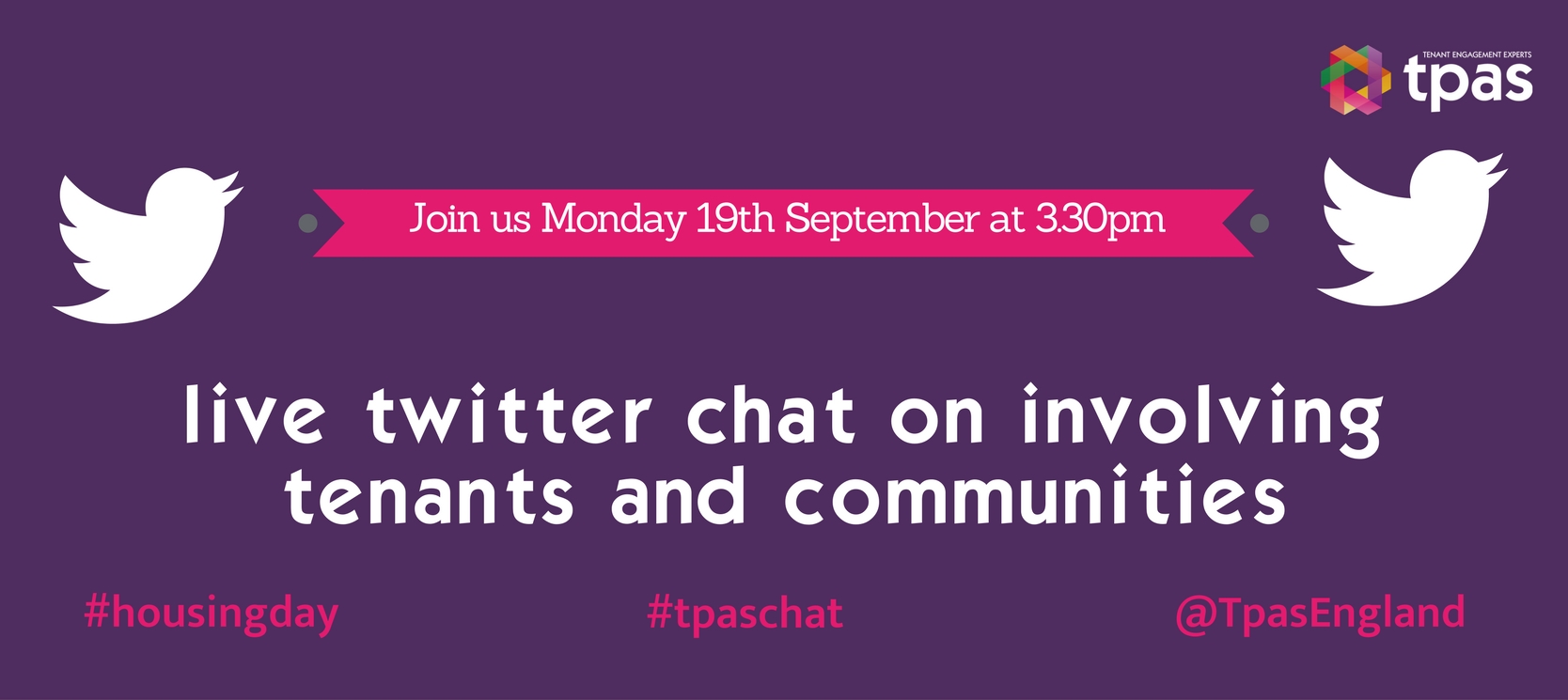 To celebrate Housing Day 2016, Tpas will be hosting our very first Twitter Chat.
Twitter chats are a great way to promote discussion and dialogue amongst a large group of people on various issues and ideas. We will focus our chat on all things tenant and community engagement. With maybe a few questions about our new tenant engagement standards thrown in.
When: 19th September, 2016, at 3.30 p.m. – 4.30p.m on Twitter @TpasEngland, using #TpasChat
---
Step 1
Sign up for a Twitter account. If you already have one, great! If you haven't used Twitter before visit the platform's FAQ page to get a better understanding of Twitter lingo such as 'retweet,' "@" mention, 'followers,' etc.
---
Step 2
Follow the host of the chat. In this case, you would type @TpasEngland in the search field, and click the "Follow" button.
---
Step 3
To kick start discussion we'll be asking some questions about our new tenant engagement standards so it's a good idea to download and a have a read through of them now.
---
Step 4
Join the chat! Our Twitter chats will take place over the hour. You are welcome to join us at any point as we go along.
When the chat begins, take part and following along using our dedicated hashtag #TpasChat
---
Step 5
Join the conversation! During our chat, we may ask some questions on your experience and opinions on our new tenant engagement standards. We're up for talking about anything really though, so we'll go with the flow – as long as it's tenant engagement related!
To participate,
· Answer or retweet one of our questions. Start your tweet A1 if you are answering Q1 and so on.
· You can also retweet other users' responses
· Ask a question yourself
· Always remember to include #TpasChat in every tweet so we can find it
---
Step 5
Enjoy the chat. Don't be discouraged if you don't really know what you are doing. Twitter chats are just a fun way to be a part of social media and join in the conversation.
We've never hosted a Twitter chat before so we're new to this too, let's all learn together.
Join us on September 19th, 2016 at 15.30 – 16.30 for our very first Housing Day Twitter chat. Follow on Twitter @TpasEngland, using hashtag #TpasChat… talk soon!
---
Are you a member?
Join Tpas today
Search news and views