What You Missed in Net Zero Week
Monday 18th of October 2021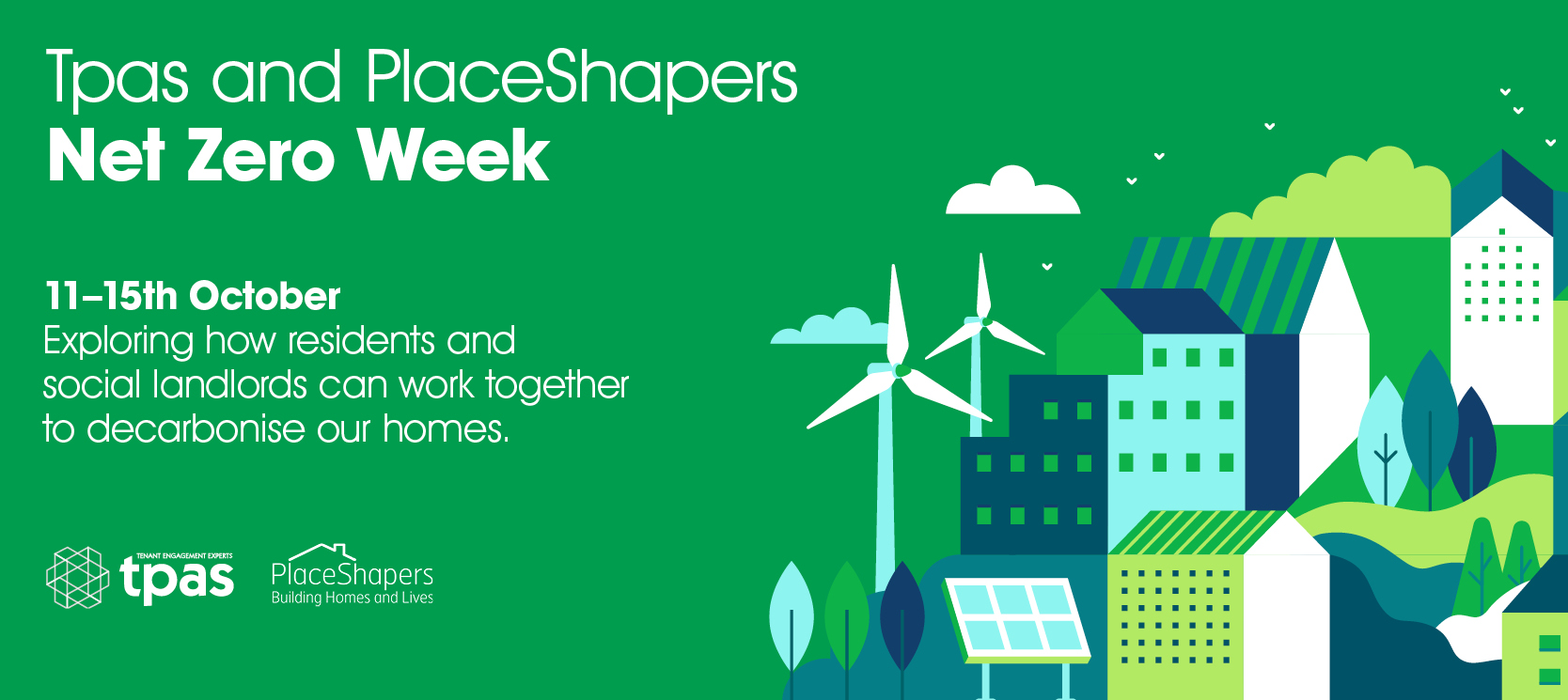 Last week (11th-15th October) was #NetZeroWeek, in collaboration with PlaceShapers. The week was full of virtual events to explore how working with residents, the housing sector can decarbonise homes.
---
---
Our Net Zero opening session, which was streamed live on YouTube, introduced the week, what Net Zero means, and what you would learn during the week. Hosted by Tpas Chief Executive Jenny Osbourne, and PlaceShapers Director Rachael Orr, it was a comprehensive run-through of what to expect during the week.
A Sectors Challenge was a brilliant way to sum up exactly what the Net Zero challenge is and why landlords need to ensure the residents' experience and voice needs to be at the centre of approaching the journey to become Net Zero

'Demystifying the Technology' was one of our most popular sessions and looked at new technologies that could soon find it's way into our homes. This practical and informative session explored the pros and cons of new technologies such as heat pumps, and the costs to run these new components.
Another highlight of the week was our in-person, 'A tenant's perspective on Net Zero Carbon' which took place at the Trafford Hall's Net Zero building, the Stable. The event was our first in-person session of this scale since before the pandemic. The event brought together tenants from across the country to discuss the issues important to them in social housing, in particular in relation to Net Zero, and what that means to them.
On Wednesday we saw the 'What's the politics of all this?' session, which discussed the political landscape, including who and how the UK's Net Zero Carbon journey will be funded. This informative session looked to answer some important questions, like 'what is the government doing?', 'what role is there for local government and action?' and 'what diversity issues must we be talking about and acting upon?'.
Our 'Good Practice Showcase' sessions on Thursday gave us examples of what some housing organisations have been doing to help their residents understand, implement, and utilize Net Zero technologies. These sessions were interesting in that we saw real-life implications of moving to Net Zero, and the complications that come with it.
The week ended with a closing session, streamed live on YouTube, from Tpas Chair John Giesen, and PlaceShapers Chair Matthew Walker. This live session gave a summary of the week, including what we'd learned and what we expect to see from the housing sector and its approach to Net Zero Carbon in the future.
---
---
Are you a member?
Join Tpas today
Search news and views