The next meet up in July can not come soon enough in my opinion!
Thursday 6th of May 2021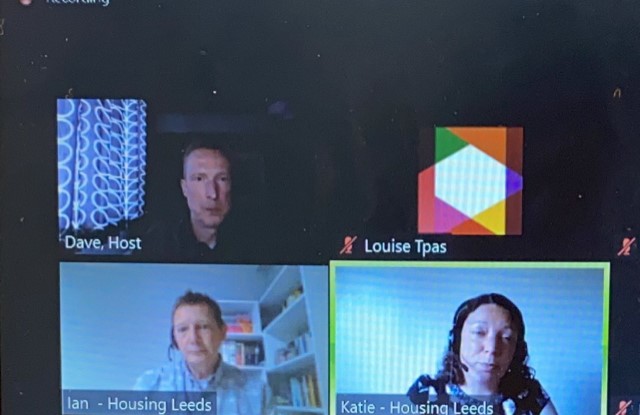 Matthew Brown, Tenant Participation Officer from Selby DC attended our first Local Authority/ALMO Staff Member Meet Up on 29th April – here's what Matthew thought of the session.
I recently attended Tpas's new Local Authority/ALMO Staff Member Meet Up which is something I always thought would be a beneficial event. The event is aimed towards local authorities which understand each other's limitations due to bureaucratic structures in place, which maybe housing associations do not. This enabled us to have open conversations instead of being in the minority was a real positive from my point of view. So, when I saw the opportunity to attend one of these sessions, I jumped at the opportunity and the results were out this world!
Firstly, the format of the meet up was really engaging and kept me interested. We did have a little issue locating the stamp tool for the interactive part of the session, but we all got there in the end.
Dave and Louise brought the energy to the meet up which enhanced the fulfilment compared to those events where you just sit and listen and playing some solitaire on your phone!
The random break out rooms were a revolution in my opinion as it gave me the opportunity to speak to other LA colleagues who I normally would not get chance to meet, from places as far south as Cornwall to sunny Blackpool. They both had some very different ideas and opinions when it comes to resident engagement and what they did during the Covid-19 pandemic, which was fascinating and I just wished I could have a smidge longer then the 9 minutes Dave gave us but there's always next time.
The next meet up in July can not come soon enough in my opinion to see how everyone is getting on and you never know, I might get to speak to someone from a different area of England who could be having similar issues or ideas as me. Therefore, if you are a Local Authority or ALMO colleague I cannot highly recommend attending the session!
Join us for our next Local Authority/ALMO Staff Member Meet Up on 7th July at 11am – 1pm. Book your place here
---
Are you a member?
Join Tpas today
Search news and views