What are the blockers for putting tenants at the heart of community investment?
Tuesday 8th of October 2019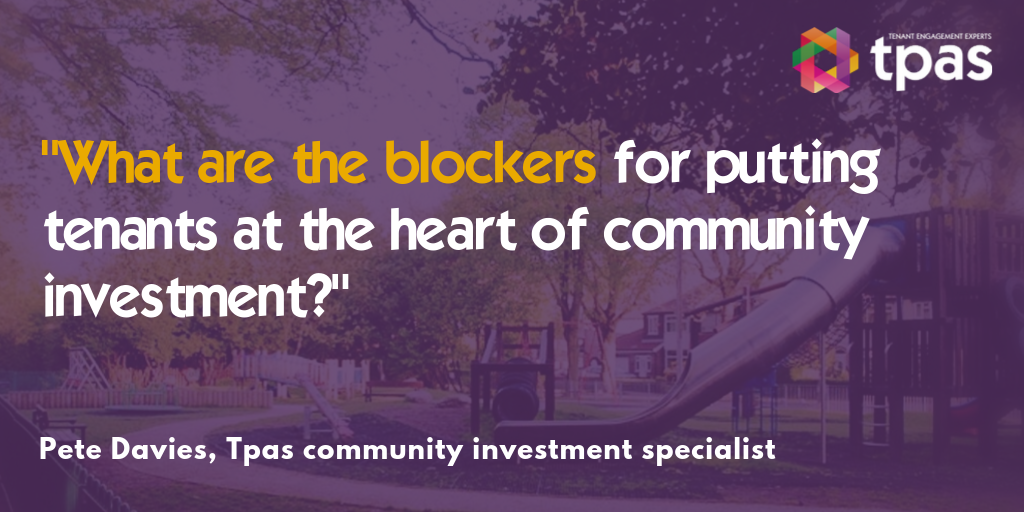 Tpas associate, Pete Davies conducted interviews with 43 housing professionals responsible for delivering community investment. He then invited around 20 members to two round tables. Here he discusses what challenges he uncovered during his research and what Tpas is planning on doing in response.
---
Over the last few months, I've worked with members of Tpas to understand the blockers for putting tenants at the heart of community investment.
I conducted interviews with 43 housing professionals responsible for delivering community investment. I then invited around 20 members to two round table discussions so that they could debate and challenge each other to get to the crux of the specific challenges around community investment.
Here are the general themes I found during these discussions.
---
Neighbourhood Investment:
Some organisations adopt a range of roles in and for the neighbourhoods they serve. They strive for sustainable solutions and relationships but the challenge is keeping up with the pace of change in modern society and business.
---
Mixed Communities:
'Landlord blindness', or working inclusively with tenants from different HA's is needed, yet sometimes controversial.
We need to be considering communities ''in the round' and across all tenures so as to capture and work with views from all and not exclusively our, or just social housing tenants.
---
Tenants Engagement and Intelligence in Community Investment:
Tenants shape various approaches and offer and customer data leads to better insight. However, mergers and staff leaving the business mean the organisation loses intelligence and relationships.
---
Community Development:
Many tenants need support in developing the levels of self-confidence and self-esteem required to adopt new responsibilities – be that leadership or entering the employment market.
---
As you can imagine there were more themes and discussions that came out from the two roundtables. Our efforts are now focussed on what Tpas can do to help the sector put tenants at the heart of community investment.
These are just some of the things Tpas will be rolling out in response.
---
The Community Building Learning Programme
We're currently piloting this non-accredited 4-day programme aimed at building the capacity of tenants and residents to lead community solutions alongside their host housing provider. An outline programme offers our hosts the opportunity to tailor the experience to reflect their business priorities and objectives and the potential of their communities.
To date, we're working with one member to progress their Resident & Tenants Associations towards community-led ventures and another to develop new relationships with tenants in a newly prioritised neighbourhood which could lead to the development of a community enterprise.
Following our pilot's we're aiming to launch this full offer in 2020.
---
Virtual Action Learning Sets
We're developing a new pilot model of Action Learning for colleagues delivering Community Investment. Aiming to bring together 10 learners in two sets for a 7-day experience, this programme will deploy virtual Action Learning to support practitioners to explore issues and clarify action around tenant engagement in Community Investment.
---
Co-design and Strategic Engagement
In the coming months we'll be introducing a no-nonsense guide to how you can work with tenants to co-create and co-design Community Investment strategies, services and projects through the lens of Asset Based thinking and practice.
---
Asset-Based Community Development in social housing
We're also aiming to sharpen our offer to members around how to work effectively alongside and with communities using the methodology and tools an impactful A.B.C.D. framework offers.
---
Consultancy
All our offers are anchored on the principle that you know your businesses, communities and tenants best and that we'll listen to understand before agreeing on the way forward to deliver results together.
We're open to an exploratory conversation around any element of where tenant engagement meets Community Investment offering a curiosity around new proposals leading to lasting solutions.
---
Click here to explore our Community Development/Investment support
---
Are you a member?
Join Tpas today
Search news and views