The White Paper
The new Social Housing White Paper will transform the way social housing is run, regulated and crucially the way tenants can influence services.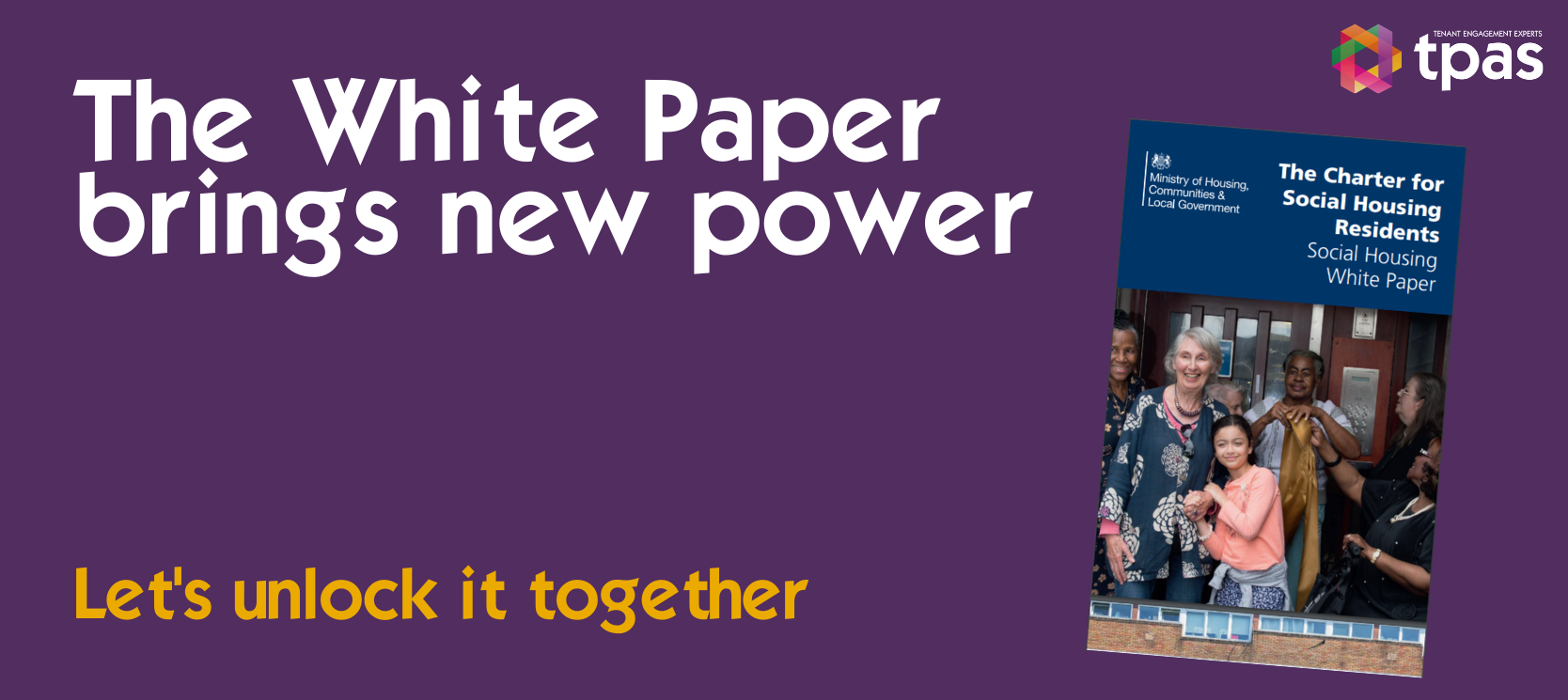 Tpas are here to offer information, practical training and best practice to enable you to unlock the powers set out in the charter for social housing residents
---
White Paper explained in 2 minutes
---
White Paper Resources
From Tpas policy briefings and recorded webinars to member strategy and action plans documents. We're collating all the most relevant and current resources in our member-only knowledge hub.
---
White Paper news and blogs
Read the latest Tpas news articles, statements and blogs that we are sharing on the white paper and the charter for social housing residents
---
White Paper Training and Events
These reforms have been a long time coming but they'll bring significant skills and knowledge gaps across the sector. Follow this link to find all our relevant courses to get up to the minute knowledge and understanding.
Find the right course for you here
---
White Paper Services
A huge expectation from the white paper is for social housing landlords to constantly seek best practice.
One of the key functions of Tpas is supporting landlords to deliver change through identifying opportunities for engagement and improvement. We are continuously sourcing the best ideas from across and beyond the sector
We work with landlords to investigate their strategies and resources and find innovative ideas that make a big impact on their resident engagement.
Our expertise in engagement, welfare reform, governance, behavioural insights, culture change, resident-led scrutiny, and data insight could be just the help you need to innovate your engagement activities.
Get reviewed, get listening, get ahead with our Smart Review
Get independent validation for your engagement performance by achieving our Landlord Accreditation
---
Ebooks
We want to achieve a cultural shift across the housing sector to raise the standard of engagement. This is why we have always taken a proactive and accessible approach to inform the sector on how to modernise tenant engagement. Access significant publications such as the National Engagement Standards for free here.
---
Join Tpas
There's never been a better time to join Tpas. From the chief executive who wants to engage with tenants and communities to dramatically improve their organisation's business performance to the committed and involved resident volunteer who wants to network with fellow residents from across the country.
All of our members share the same values and goals.