Express Engagement - The Essential Workshop for Busy Professionals
Thursday 13th of June 2019
Tpas Associate Mal Harrison recently attended the Express Engagement workshop in Bristol. Here, she shares her opinions of the session and its value to others.
---
About the Day
I found the section on maximising engagement comprehensive and interesting. Given my experience in resident engagement this workshop gave me a lot of food for thought and was extremely comprehensive. It certainly was useful for getting down to the nuts and bolts of engaging tenants, with the spotlight on tools and techniques to reach new tenants, including those harder-to-hear ones. Yes, not harder to reach, but harder to hear! And if you don't know about the strength of the latest thinking on Behavioural Insights, you really should sign up for this course and find out all about it! This could revolutionise your thinking behind each and every aspect of resident involvement activity.
I also found that this workshop raises questions which every social housing provider should be thinking about and be ready to answer! These questions include your understanding of the recommendations from the Hackitt Report to bring forward legislation that give residents a much stronger voice in reviewing safety standards. For example how is your organisation agreeing with residents to review the Decent Homes standards and what attention has been paid to safety from a tenants perspective?
Questions arise, also about the implications of the Social Housing Green Paper and the strengthening of the role of the Regulator for Social Housing. Is your Complaints process the best it can be?
With sessions on Developing an Effective Tenant Panel for service delivery to developing tenant-led Scrutiny as part of Co-Regulation, there's a real hands-on feel to much of the morning-long workshop. A lot is packed into a short session.
Particularly interesting was the workshop's take on measuring and valuing tenant engagement, in terms of both monetary and social value.
---
In Summary
This comprehensive workshop guides you through the essentials and attendees will be better placed to put their organisation in a stronger position and to generate new thinking about the renewed interest in resident engagement. Asking the right questions now and putting the right processes in place will ensure you are not caught on the back foot.
---
About the Trainer
The whole thing was delivered by Anna O'Halloran with confidence, knowledge and enthusiasm and I left the workshop feeling much better informed and much more confident in my ability to understand the essentials that will stand me in good stead for the new generation of resident engagement that's definitely on its way. Try it – I'm sure you'll feel the same.
---
Don't Miss Out
Tpas are running the event again on 4 July in Nottingham, click here to book your place.
To find out more about Behavioural Insight training - click here.
---
Feedback from Other Delegates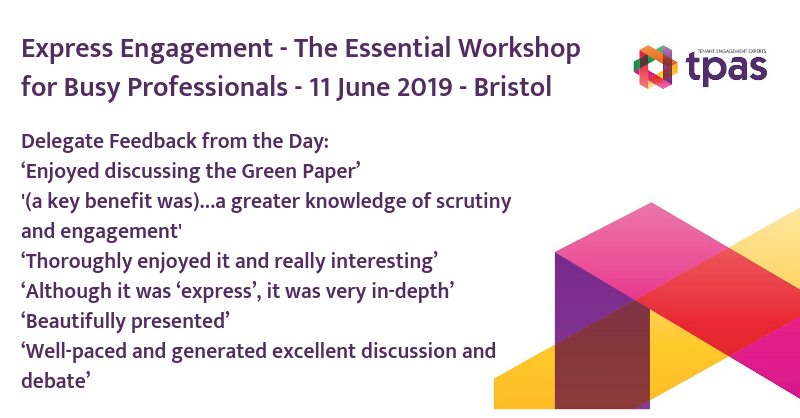 ---
Are you a member?
Join Tpas today
Search news and views