Is your engagement smart enough?
Friday 20th of October 2017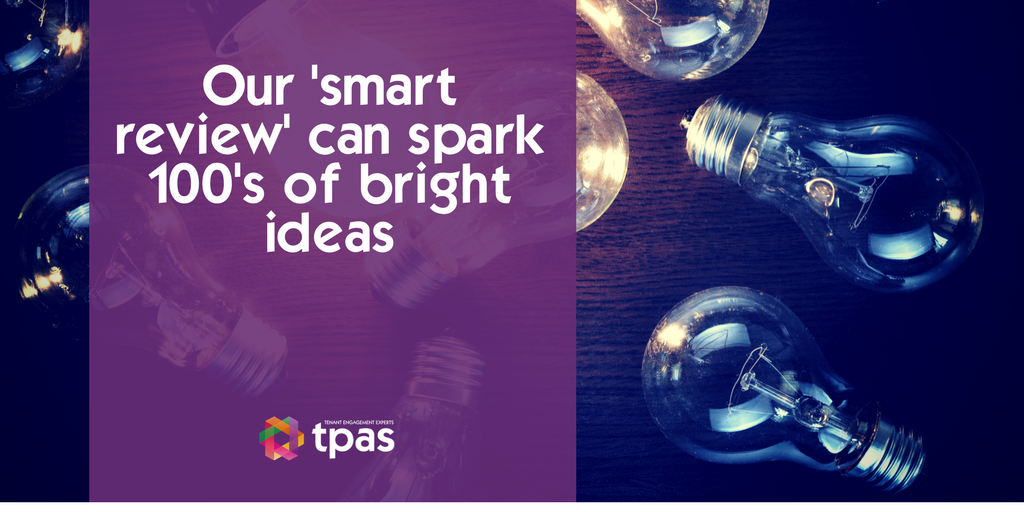 With the Social Housing Green Paper due early in the New Year and with a spotlight being shone on engagement across the country how can you be really sure that your involvement service is achieving the best outcomes for your residents and your organisation?
The voice of social housing tenants is being heard loud and clear by Government, MP's and the national press agenda right now.
So, the time is absolutely now to look again at how you are engaging your communities to ensure that you are truly listening.
Let our engagement experts help with our practical, fast and effective SMART review.
---
What it includes
A Smart Review will help you;
understand how you are performing against regulatory requirements;
understand how you are performing against the Tpas National Tenant Engagement standard themes.
enable you to ensure your engagement activities are based on sound strategic decisions;
enable you to understand what is working, what's not and where to improve.
---
What does SMART involve?
Tpas staff will contact you to discuss your current approach. At this point we like to take a look at your key documents and processes to get a real sense of where things are at for you. Then the best bit - we spend a day with your key staff and tenants. Let's hear direct their experience of your resident engagement. It's always a time for useful insight and feedback as well as exploring exciting new ideas.
---
What you'll come away with
You will receive a report that includes;
a review of your engagement against our standards;
recognition of your good practice;
a practical and an achievable action plan on improvements you can make in the short, medium and longer term.
an assurance that your approaches are inclusive, evidencing the commitment you have to going the extra mile in ensuring that your services meet residents diverse needs.
Clear analysis for your board and stakeholders on where your engagement is now and where it could go in the future * (plus VAT and minimal expenses)
---
What our clients say about the Smart Review
Anyway don't just listen to us, the Smart thing to do is let our clients tell you more...
Tpas carried out an independent assessment of our current engagement activity, as part of this we were provided with a report and action plan with detailed short term recommendations which highlighted good practice and areas where potential improvements could be made. The consultant involved in carrying out the interviews and overall assessment was very knowledgeable and had lots of experience, which was very helpful and he provided useful advice and information throughout the process. The staff and tenants involved said they found the experience itself very useful and thought provoking. Overall the whole process was very valuable and the final report was fair and helpful and we will be using it to help us reframe and modernise Tenant Involvement in Bristol.

Recommend to others: 9/10 Elizabeth Cheetham, Bristol CC
The visit from Gillian to talk through our desk top exercise with staff was very useful and it helped us focus on where we need to focus to make improvements. It also helped us realise that we are doing well and that with some minor adjustments we will be achieving more than other organisations. Gillian was very clear about the project and we received exactly what was proposed to us. Gillian was very helpful and knowledgeable about the subject and shared lots of good practice from other organisations.

Recommend to others: 10/10 Juliet Grant, Lancaster CC
Correspondence with Tpas was made easy and was very productive. Tpas enabled us the opportunity to have a face to face discussion around how staff felt our involvement structure worked / does not work and equally gave our tenants an opportunity to do the same which did demonstrate clear mutual difficulties we are facing.The above has enabled us to have a reflective review of what we need to do in order to improve.

Recommend to others: 8/10 Diane Foley, Greenfields CH
The guidance provided by Tpas of best practice in the sector enabled us to consider streamlining our services

Recommend to others: 10/10 Tracey Jagger, Habinteg
Weaver Vale Housing Trust are utilising the recommendations from the SMART review to produce an integrated engagement action plan to ensure recommendations from Tpas are actioned by the organisation
---
How much does it cost?
Get reviewed, get listening, get ahead. For £1500 plus VAT and minimal expenses.
---
Book a review and find out more information
---
Are you a member?
Join Tpas today
Search news and views