National Engagement Survey Closes Today
Friday 24th of February 2017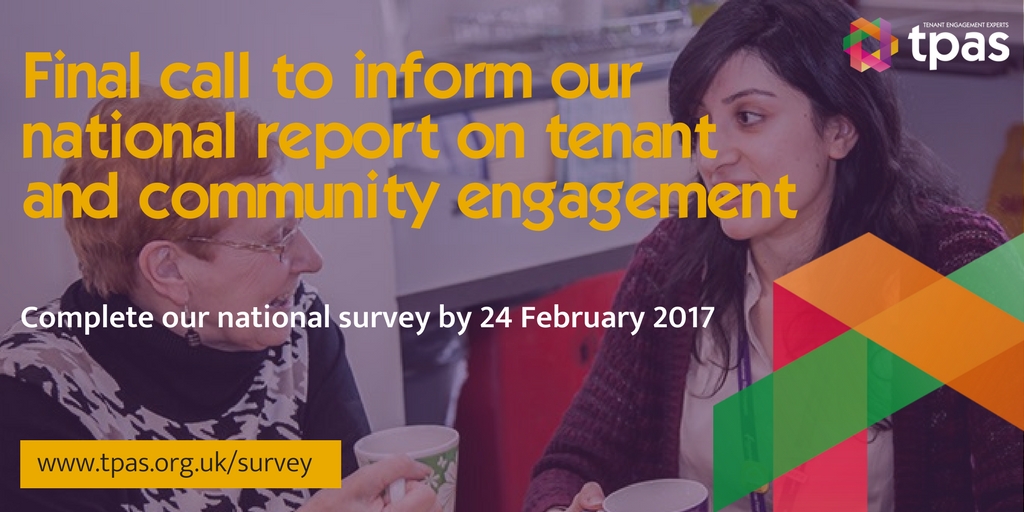 Today (23.02.17) our first annual engagement survey closes; this is a final call housing professionals and tenants to inform a national report on engagement today.
Using the results of the survey we intend to publish a report which offers a unique national profile of organisations and individuals who are making a significant contribution to tenant and community engagement across the country.
This first survey marks the start of an exciting journey where year on year we will map the changing face of tenant and community engagement. There are no right or wrong answers – just your view on what is happening in your organisation.
As a contributor you will receive a copy direct to you inbox as soon as it published.
It promises to make for fascinating reading. And as a thank you for taking the time to complete the survey all completed surveys will be entered into a draw to receive £100 of Love2Shop gift Vouchers.
So join us, share information about the part you play and let's create change together.
---
Are you a member?
Join Tpas today
Search news and views