Rotherham Council becomes accredited with Tpas
Friday 30th of September 2016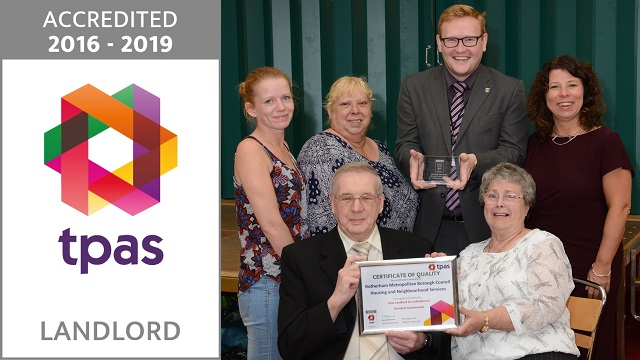 Rotherham Council's Housing and Neighbourhood Services are celebrating this week after being successfully awarded the Tpas accreditation for excellence in tenant engagement.
---
It follows a rigorous assessment process where Tpas, the national tenant engagement organisation, looked at how the Council housing services engages with tenants. The award recognises the Council's commitment to involving tenants in decision making processes and demonstrates that tenants are given the opportunity to influence decisions about housing policies, conditions and services.
The award panel also praised the partnership between the Council and RotherFed tenant federation for providing high quality and inclusive tenant involvement.
Councillor Dominic Beck, Cabinet Member for Housing, said: "This is really good news for the Council and our tenants and residents. It shows how committed we are to making sure tenants' input is at the heart of our housing and neighbourhood services and demonstrates how we go the extra mile to ensure our services meet residents' diverse needs. "I hope this achievement will encourage more tenants to take part in shaping our services by providing them with confidence that their input will be taken on board and that they genuinely have the chance to make a difference. "I would like to thank all the many people who have contributed towards the recognition we have earned through the accreditation." The process involved a full assessment of the Council's approach to tenant engagement and included interviews with tenants and staff. Stella Parkin, Rotherham Council tenant and Chair of Rotherham's Housing Advisory Panel, said: "We are delighted with this award, as it is a positive reflection of how much tenants can achieve when given the opportunities to have a say in improving housing services for Council tenants in Rotherham." Jenny Osbourne, Chief Executive of Tpas, added: "I am delighted to support the significant achievements of Rotherham Metropolitan Borough Council; a lot has been achieved in a short space of time which shows what can be done when tenants, staff, management and local elected members all make a realistic commitment to involvement. "I commend the fabulous community work going on and loved reading the detailed approaches particularly ensuring diverse involvement groups to focus on meeting local and diverse needs." This accreditation, which lasts for three years, is only awarded to landlords who show commitment to engagement and empowerment of tenants and who are responsive to tenants' diverse needs.
---
Are you a member?
Join Tpas today
Search news and views