Tpas Launch Best Practice Treasure Trove
Wednesday 10th of March 2021
Tpas is developing a good practice treasure trove of activity within the sector, linked to the new National Engagement Standards.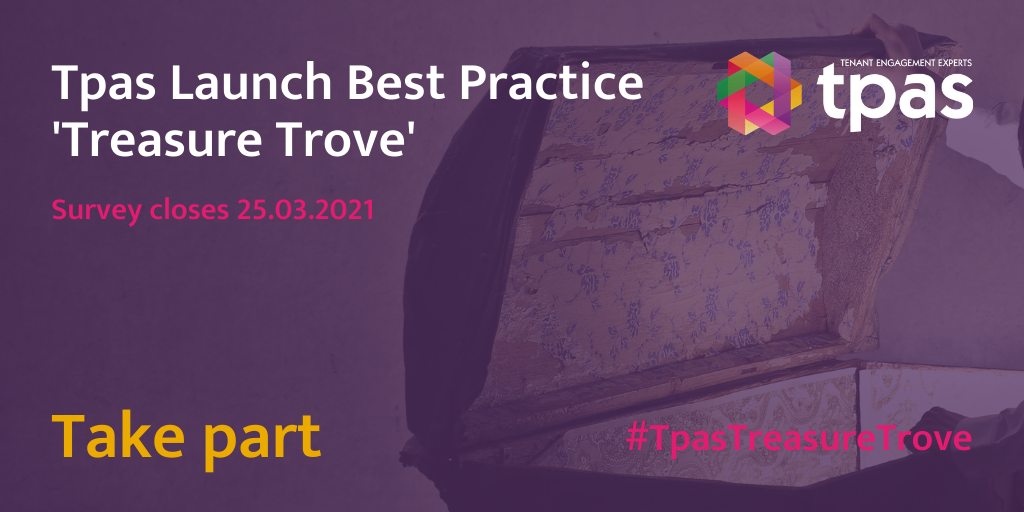 ---
Since the Charter for Social Housing Residents (The Social housing White Paper) landed, it made clear the need for organisations and their residents to network and share best practice to improve resident engagement.
At Tpas England, we have consistently provided opportunities for our members to share their work to provide examples and inspiration to other organisations and their tenants across the country.

Our Knowledge Hub is a treasure trove of good practice – but we want to create an up-to-date document that captures good practice in one place. Call it an encyclopaedia of good practice if you will.

We're searching for examples from organisations of all different types, sizes and geographic reach, so there will be something for everyone!
The topics we are researching all link back to the principles in the Tpas National Tenant Engagement Standards. These are:

# Governance & Transparency
# Scrutiny
# Business & Strategy
# Complaints
# Information & Communication
# Resources for Engagement
# Community & Wider Engagement

Get involved by telling us about your projects or activities and we'll consider how we can include your best practice in our treasure trove.
The submission survey ends on 25th March 2021
---
Click here to complete the treasure trove survey
---
Are you a member?
Join Tpas today
Search news and views