If you've not hosted a Tpas event yet, give it a go.
Tuesday 25th of February 2020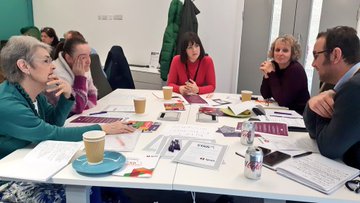 Zerg Raja from First Choice Homes Oldham tells us about their recent experience hosting a Tpas members event.
---
I started as a Tenant Participation Officer nearly two decades ago, during which time my job title and the focus of my role have changed four times.
Over this whole period, however, the one constant has been Tpas conferences and the key role they've played in keeping my colleagues & I and the customers we work with at the forefront of thinking around the positive impact that tenant participation can have on social housing.
It was this that led us, as new team to offer to host the North West Tpas Members Network Event at First Choice Homes in February.
The event brought together over 40 members from across the region to connect with our own customers, who ranged from those we've worked with for years to one whom we connected with as recently as the beginning of the year.
Garth, for example, took part in a door to door survey we carried out in January as part of a new project we're leading on, to improve customer satisfaction with our Neighbourhood Care Service.
"I didn't expect that answering the door to Zerg and Tanisha last month would lead to me meeting so many people from across the North West and learning about the influence I can have as a tenant in such a short time."
The other best bit about hosting Tpas, was how easy it was and how much it helped raise our own profile. They sorted everything from the food to the paperwork and transport details for the attendees. All we had to do was provide the space and give a short overview of what we're up to as a team.
If you haven't done so yet, get on board and give it a go.
Zerg Raja
Stronger Communities Officer
First Choice Homes Oldham

---
If you'd like to host a future Tpas members event, please email lisa.holt@tpas.org.uk
---
Are you a member?
Join Tpas today
Search news and views