Work begins for Lewisham's first intergenerational new homes
Thursday 16th of February 2023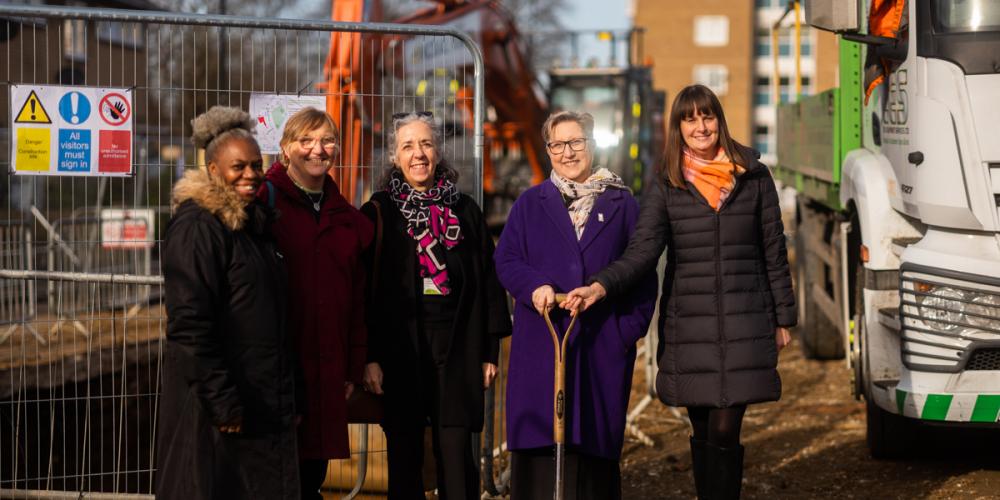 Construction has started on some of the most highly sustainable homes ever built in Lewisham.
---
Phoenix marked breaking ground at Melfield Gardens on Monday 30 January with National Housing Federation (NFH) Chief Executive, Kate Henderson and the NHF team as part of a tour of the Phoenix area.
Working in partnership with Goldsmiths, University of London, this intergenerational housing scheme, designed by Levitt Bernstein Architects, will create 30 much needed homes for people over 55, offering an attractive opportunity for social housing residents elsewhere to downsize and free up their old homes for people on the housing waiting list.
These new homes include two four-bedroom flats designed for postgraduate students. Phoenix will offer students lower cost, high quality accommodation in return for the students' offering volunteer time to their neighbours in Melfield Garden's intergenerational housing initiative.
Phoenix Community Housing Chief Executive, Denise Fowler, said: "It was fantastic to visit Melfield Gardens as part of our tour today. This is a very exciting development for Phoenix, Goldsmiths, University of London and Lewisham.
"It's so important that we build affordable, high-quality, energy efficient and spacious homes that are fit for the needs of our community. The intergenerational aspect will bring people of different ages and at different stages of life together. I can't wait to see the scheme progress."
The new homes are designed to meet 'Passivhaus' standard - an internationally recognised approach that aims to address issues including fuel poverty and climate change. Passivhaus homes have very high levels of insulation, which means residents will notice benefits such as lower energy bills and comfortable living environments all year round.
Melfield Gardens is part of Phoenix's development plans to build 186 new homes by 2025, supporting Lewisham Council's Building for Lewisham programme, which aims to deliver more homes for families on the housing waiting list.
---
Are you a member?
Join Tpas today
Search news and views