LB Waltham Forest: Montague Road Estate IA
Monday 12th of October 2015
Tpas are providing Independent and impartial advice and support to the community in Montague Road during the proposed regeneration of this area.
Waltham Forest made a recommendation to Cabinet that they do not appoint a developer partner because the commercial terms were not acceptable to the Council, therefore the proposed regeneration of Montague Road is not going ahead at this time.​
Our role is to provide independent and impartial advice to any resident who lives in both the John Walsh and Fred Wigg blocks. We will support you and work on your behalf to ensure that you are fully informed and involved throughout the regeneration project. For more information on our approach, role and standards that you can expect from us please look at our Independent Adviser Service Charter.
---
Your Tpas advisors are: Lucia Deere and Denise Barnes.
Tpas surgeries have started, with two held to date. Our surgeries will be held every Thursday from 6pm to 7:30pm in the portacabin on the estate. Residents can come along and talk to us in confidence about the concerns they have about the regeneration project and we can advise you on your rights and your options.
If you are unable to come to the portacabin but wish to meet to discuss any issues you have please contact us on Freephone 0800 731 1619 or email us on walthamforest@tpas.org.uk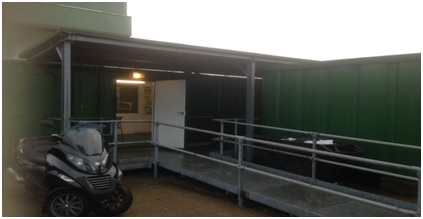 Image: Estate Portacabin.
The Residents Steering Group:
Following a very positive meeting in July we have written to all those residents who have expressed an interest in being part of the group, inviting them along to the next meeting on 21st September 2017 at 7pm. This meeting will discuss the key issues of concern for residents as the regeneration project progresses and will start to develop a charter setting out resident's rights and what the Council will offer secure tenants and leaseholders.
Any resident is welcome along to the steering group meeting, your views are important to Tpas who will feedback your views to the Council and challenge where needed.
Temporary Householders:
We have spoken to temporary householders who have attended our surgeries and we have passed on their concerns to the Council. We will raise issues on your behalf with the Council.
Tpas have provided information on our newsletter for residents who are in temporary housing. We have now noted that one of the email addresses supplied is incorrect, we have asked the Council for the correct email and will post it on this site and inform residents. If you wish to contact the Temporary Housing Team the contact is: rob.passmore@walthamforest.gov.uk or Allocations.Housing@walthamforest.gov.uk
Bidding for properties:
If you have questions about the bidding process Council officers are on the estate on Tuesdays and Fridays 9am-1pm and 2pm to 5pm. The officers are Michelle Carroll (michelle.carroll@walthamforest.gov.uk) and Jacqueline.franklin (Jacqueline.franklin@walthamforest.gov.uk)
Fire Safety
The Council has sent a letter to all residents (August 2017) with regard to fire safety inspections which will be taking place each month. This is an important letter which advises residents on keeping access areas clear and unobstructed to ensure residents can use the escape routes in the event of an emergency.
---
How to contact us
Call us on our Freephone line: 0800 731 1619 (free from landlines, if you call from a mobile let us know and we will call you back). Alternatively, you can email us at montagueroad@tpas.org.uk
If you phone Tpas we will call you back within 24 hours, if you email or write to Tpas we will respond to you within 3 days.
---
---
Are you a member?
Join Tpas today
Search projects