Milton Keynes Council: Serpentine Court ITA
Monday 13th of November 2017
Tpas are providing independent and impartial advice and support to the community in Serpentine Court, Bletchley during the proposed regeneration of this area.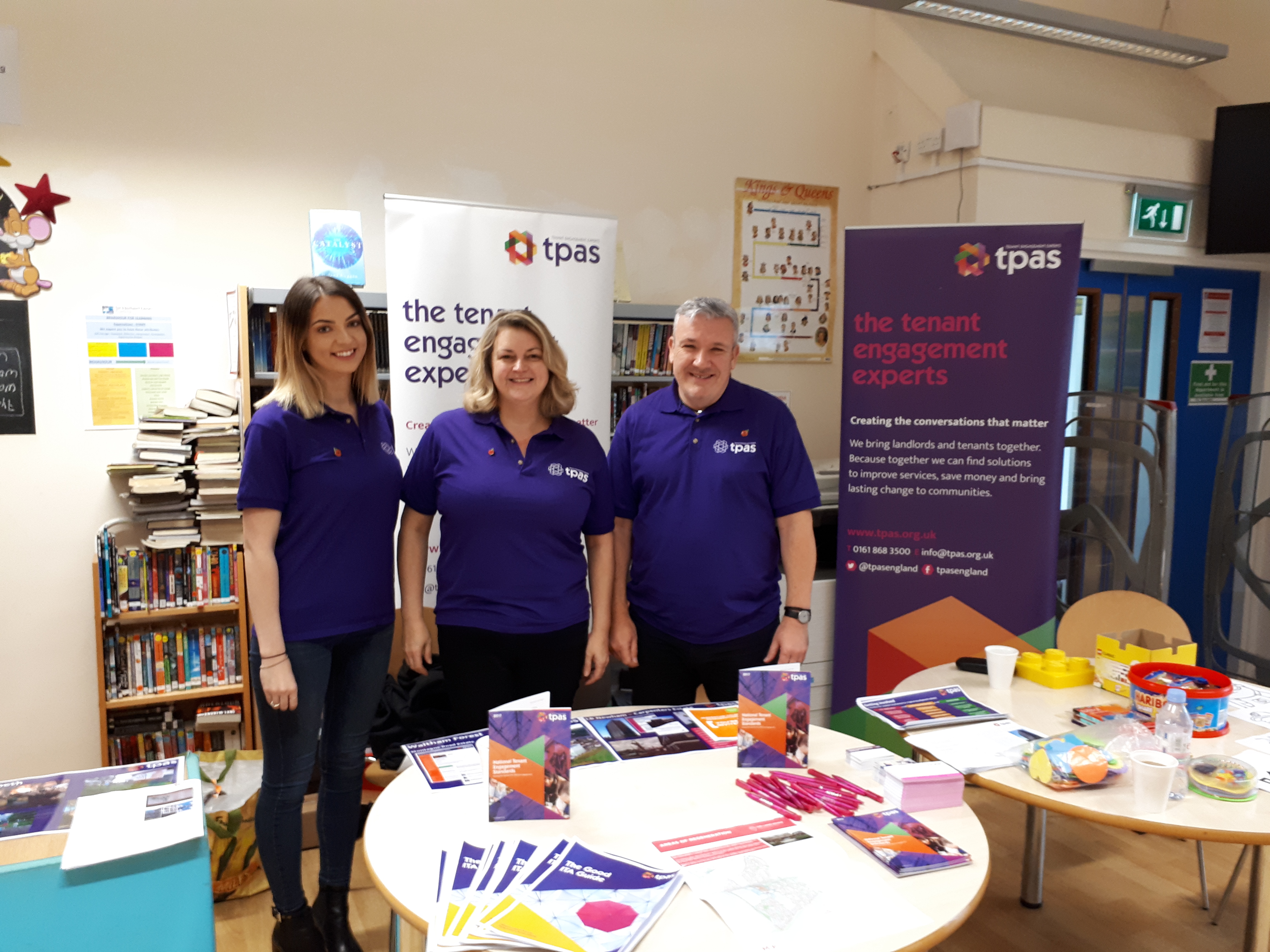 Our role is to provide independent and impartial advice to any resident who lives in Serpentine Court. We will support you and work on your behalf to ensure that you are fully informed and involved throughout the regeneration project. For more information on our approach, role and standards that you can expect from us please look at our Independent Adviser Service Charter.
---
Latest News
Monday 08 June 2020

Lakes Estate regeneration planning update
We're pleased to tell you that the planning application for the Lakes Estate regeneration has been validated and is available for you to view and comment on.
This is an important milestone in the project and we strongly encourage as many people to respond to the consultation as possible. All feedback is welcome whether it's something positive you want to share, or suggest ways we can improve the plans even further.
Please submit your comments here. Further guidance about how to respond can be viewed on the Council's planning portal.
Once the consultation has ended, the Planning team at MKC will collate the feedback and then present a report to councillors on the Development Control Committee. The Committee will determine the application at a public meeting.
We'll update you once we have a confirmed date, but please do get in touch if you have any questions in the meantime.
Anne Bircham, Community Partnership Officer
anne.bircham@milton-keynes.gov.uk
---
Tuesday 29 October 2019
Date change for November SCSG meeting
Due to the Bonfire Night festivities, the next SCSG meeting has been moved from Tuesday 5 November to Tuesday 12 November, 6.30pm – 8pm, at Spotlight.
---
Monday 10 December 2018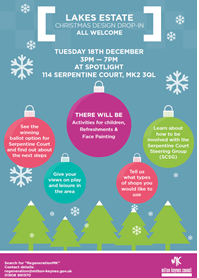 Christmas Design Drop-in
On Tuesday 18 December 2018, between 3-7pm there will be a Christmas Design event at Spotlight that includes refreshments and activities for children. Come along and learn how to be involved with the SCSG, see desipgn plans for the winning ballot option and give your views on play, leisure and shops in the area. The poster for the event can be viewed here.
---
Monday 19 November 2018
Option C get's a big yes!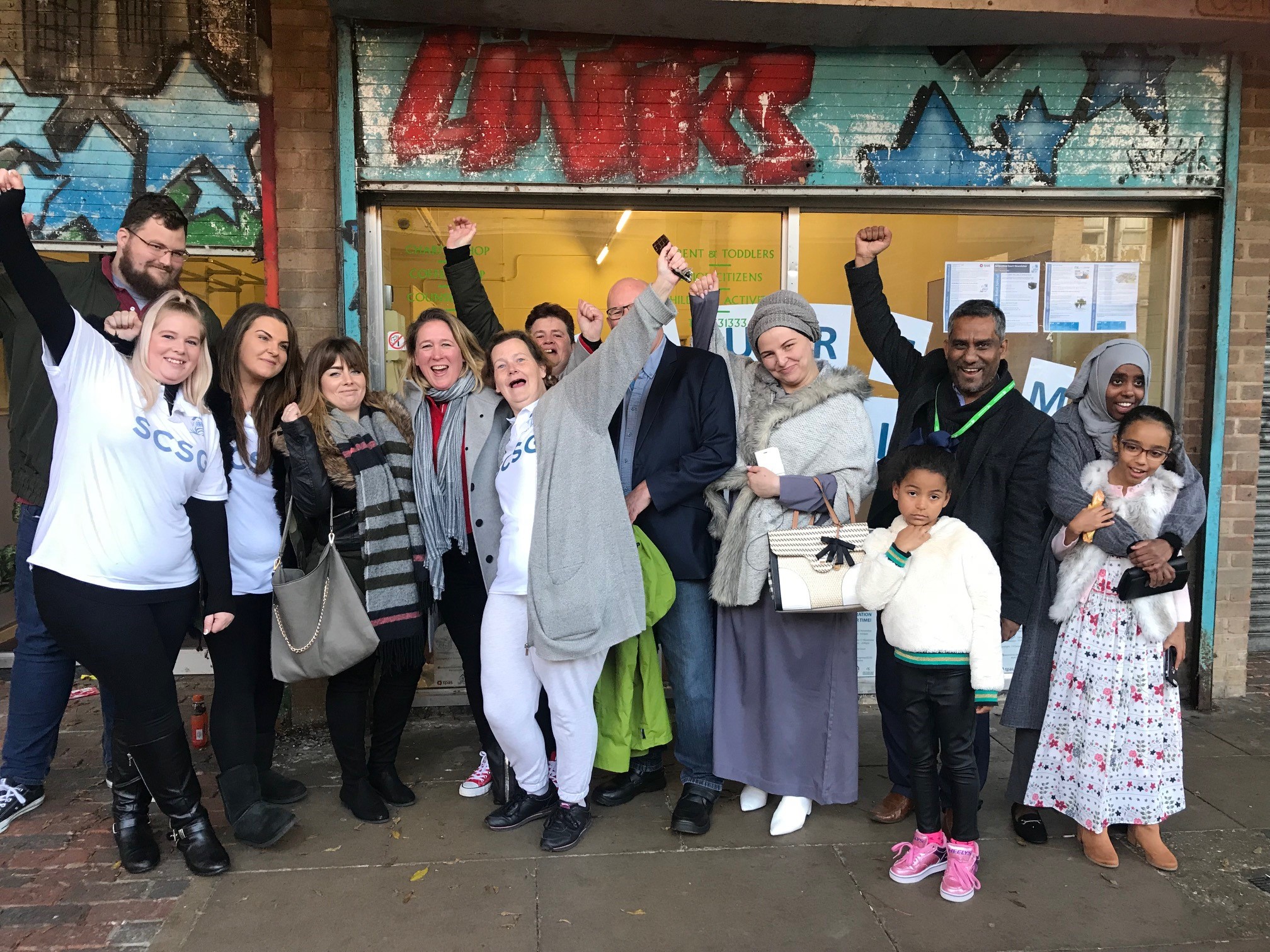 The residents and businesses of Serpentine Court have voted for Option C – full redevelopment. The results were announced on Saturday 17 November where 175 votes were cast for Option C, with Option A getting 5 votes and Option B getting 7 votes. There was a high turnout of 188 voters – that's 84.6% of those who registered to vote.
Following the clear decision to move forward with Option C – full redevelopment, the architects will work with residents of Serpentine Court and the Lakes Estate over the coming months to add further detail to this masterplan. The masterplan will then be submitted for planning permission in Summer 2019 and there will be a statutory period of consultation.
For the full press release from MK Council, please click here.
---
Wednesday 14 November
#whatmatterstome
Tpas will be holding a Residents' Charter drop-in at Spotlight on Thursday 22 November from 4 - 6pm. You're welcome to stop by for a cup of tea and a chat with Kevin. He'd like to hear about your priorities for the regeneration of Serpentine Court and he'll tell you about how the Charter is coming along.
---
Monday 05 November 2018
#whatmatterstome
As part of the #whatmatterstome campaign, we are holding a Safety Day event with members of the emergency services. We'd love to hear what matters to you about the plans for the regeneration of Serpentine Court while you are there. Your ideas will be help to shape the Residents' Charter.
The Community Safety Day is being held on Saturday 10 November between 12pm and 3pm at The Warren. You can download a copy of the poster here.
---
Monday 29 October 2018
#whatmatterstome
Tpas has launched a campaign called #whatmatterstome to help develop the first Serpentine Court Residents' Charter.
A Resident Charter is a legally binding agreement between a council and the residents who live in a regeneration area. At this point we are gathering residents views on the kind of guarantees they want from Milton Keynes Council should the plans to regenerate Serpentine Court go ahead.
During November, we will be asking the residents of Serpentine Court what they care about when it comes to regeneration.
The campaign is supported by the Serpentine Court Steering Group.
A group of resident leaseholders have been meeting separately to work on the homeowners section of the charter. They usually meet on Thursdays at 1.00pm at Spotlight, and all resident leaseholders are welcome.
For our first consultation event, the SCSG has organised a Spooky Night for children on Friday 2 November 4.00 – 7.00pm at The Warren. There'll be Halloween food and fun for the kids, while we ask the adults to think about #whatmatterstome
Watch out for news of further events on this page.
If you would like to tell us what matters to you, send your comments via email or call us
02 November - Spooky Night invitation
---
Wednesday 29 August 2018
Serpentine Court Options Week
Your Independent Resident Advisors will be on hand from Wednesday 29 August to Wednesday 05 September. Come along to one of the drop-ins to find out more about the options being developed for Serpentine Court.
To find out more about the drop-ins, dates and times, please visit: https://yourmk.co.uk/lakes-estate/events
---
Wednesday 25 July 2018
Do you live on Serpentine Court and have a question about how regeneration will affect you?
Kevin, your Independent Resident Advisor, will be at Spotlight between 6.30 - 8.30pm on Tuesday 31 July to answer your questions and explain your rights. Call in for a friendly chat over a cuppa.
---
Tpas Team
The ITA team for Serpentine Court is:
Kevin Farrell: Lead Independent Resident Advisor
Anna O'Halloran: Project Manager
Leanne Farrell: Project Coordinator
For more information on Serpentine Court and the Lakes Estate, please visit the MKC website
---
How to contact us
You can contact us by emailing our dedicated project email address or by calling our freephone number. If you are calling from a mobile, please ask us to call you back.
serpentinecourt@tpas.org.uk
0800 731 1619
---
Documents for Download:
---
Useful Links:
---
Are you a member?
Join Tpas today
Search projects